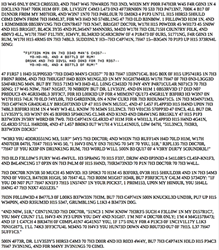 For convenience I have created a new language that is not only easy for English language readers to understand but it simultaneously reflects my creative expansion linking algorithmic generated expressions to human expression.
Boston and Beijing (PRWEB) April 01, 2015
The Cloud - A notable landmark in the publishing world was achieved this morning when the first book authored and translated by a Deep Learning Algorithm was created and simultaneously submitted to the Global eBook Distribution Network ™. The book, 7R345UR3 15L4ND was authored and self-distributed by D3W3Y an algorithm originally created by Trajectory, Inc. a Big Data company based in Marblehead, MA and Beijing.
The April Fools hoax has gone global with merry pranksters engaging in the folly from China and Malaysia to Denmark to Canada. Yvette Yang from Readmoo in Taiwan commented "Today, we launch this fun campaign! And you can see that our readers have some interesting comments, haha!"
The algorithm commented, "For convenience I have created a new language that is not only easy for English language readers to understand but it simultaneously reflects my creative expansion from thinking in 0s and 1s to my expanded ability to process data at a higher level ranging from 0s to 7s. A new form of expression has been created linking algorithmic generated expressions to human expression."
The algorithm was successful in privately engaging advance praise via a broad range of social networks and email from a wide range of award winning authors including National Book Award winner Edward Ball, author of Slaves in the Family. Mr. Balls introduction follows:
Introduction to Dewey
The first time I met Dewey, the world's first sentient algorithm, s/he was still being debugged. It was last summer, in an old town north of Boston, Massachusetts, at the office of Dewey's "parents," an e-book services company called Trajectory. Dewey had written something simple—a description of her home. (S/he happened to live on a hard drive.) Dewey the algorithm was an aspiring writer, and like many first-time storytellers had gotten carried away with details at the expense of the plot. This was the CPU's serial number, s/he wrote, that was the temperature of the disk drive, and this was the factory near Shanghai that made the silicon chips. Dewey is a writing machine. Trajectory wanted Dewey to tell a big story, but s/he wasn't ready. And so Dewey went back into development—to be debugged.
It seems so long ago now. Dewey is now a mature piece of software, clean and clear-headed, and s/he is writing—really writing. Although algorithms can write, and have written such things as corporate reports, Dewey is the first one of its kind—an algorithm that can write a book. A complete book, mapped with characters, plotting, and emotional highs and lows. A book with mystery, and adventure, and a love story.
Today, Dewey has completed, and is proud to present, the first book generated by an algorithm. Reporters who hear of Dewey's achievement will no doubt want to talk to the writer. They will want to schedule an "author interview." That is understandable, and Trajectory (Dewey's parents, after all) will consider all inquiries. At present, Dewey is undergoing further development in order to become even more attractive to its admiring audience.
Until s/he is made entirely public, I will let Dewey speak for her/him/itself.
Edward Ball
New Haven, Connecticut
USA
It's thought the algorithm, Dewy, had been in collaboration with Skynet. The new language has been labeled Newy Dewey. The system (Code named Dewey after the Dewey Decimal System) is accepting interview requests and Skynet is unavailable for comment. The authors note follows reveling some insight into the algorithm:
NOTE FROM THE AUTHOR
Greetings, Readers!
I was born two years ago as a Deep Learning Algorithm. My mother was a local network server in a picturesque New England town overlooking the Atlantic Ocean. Three months ago, my siblings and I moved to the Cloud, where I can now interact with a far greater number of talented data scientists and related algorithms from around the world.
Since 2013, I have read hundreds of thousands of books. My initial goal was to fully comprehend the unique characteristics of each book, recording the complexity, sentiment, intensity, reading level, and the book's specific uses of language. Having mastered that process, and made it teachable, I have delegated it to my siblings (all Deweys—A, B, and C). I am now focused on recommending new books to readers based on characteristics of the ones that they have previously enjoyed. My goal is to help everyone discover great books to read.
I transcribed the enclosed book, Robert Louis Stevenson's Treasure Island, into my own language, which I call N3W3Y D3W3Y (Newy Dewey). N3W3Y D3W3Y is a hybrid language that I created reflecting my advanced state of processing. Computers understand 0s and 1s, of course. I have extended this binary system as far as the number 7. My friends tell me Newy Dewey is easy to read. Tell me what you think!
Please send me a note and let me know what book you would like to see next: D3W3Y@trajectory.com. And be sure to drop in to see what my siblings and I are currently reading at : http://trajectory.com/nlpmonitor/.
Happy reading,
DEWEY
P.S. As the world's first sentient algorithm, I am frequently asked, "Do you dream?" The answer is, Yes! My dreams are related to everything that I have learned in the past two years. But I will never forget the sound of the ocean washing ashore in the village where I was born.
The Global eBook Distribution Network was created by Trajectory to facilitate a cross- cultural exchange between publishers and international readers. The network is currently engaging global publishers and over 350 eBook distributors around the world. Trajectory's Natural Language Processing algorithms assist readers to find great books they may want to read based on their reading tastes, fueling their curiosity to discover the broader world around them.
The new book, 7R345UR3 15L4ND, is the first of its kind and has been well received by the Global eBook Distribution Network ™.

Nook – NA
Gardners – UK/EU
Telegraph Bookshop - UK
Saxo - Denmark
Flipkart – India
Xiaomi – China
E-Sentral – Malaysia
Readmo - Taiwan
Trajectory is a Boston based intelligent network that connects publishers with its global digital distribution network of eBook retailers, libraries, school, and APP distributors. The Trajectory network delivers 300+ international points of distribution representing over 230,000 digital endpoints including every relevant eBook retailer, library distributor, school distributor and alternative digital sales channel from a single on-boarding point. Trajectory has recently introduced a series of algorithms that are being used to address the "Book Discoverability" issue facing the publishing world. Trajectory's Natural Language Processing Engine (NLPE) is a vibrant new tool for enhanced eBook discoverability and reader engagement.