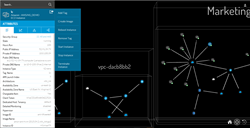 Hyperglance availability in AWS Marketplace enables customers to gain valuable cloud topology insight whenever they need it
London, UK (PRWEB) April 05, 2016
Hyperglance Ltd. today announces Hyperglance 4.0 availability through Amazon Web Services™ (AWS) Marketplace. Users can now conveniently launch Hyperglance from AWS Marketplace to easily bring together infrastructure entities distributed across virtual private clouds (VPCs), regions, accounts, and even cloud system platforms, such as both AWS and OpenStack®, into a cohesive cloud topology view. Hyperglance automatically aggregates data into an interactive, data-rich, 3D topology console within a single browser tab view to streamline the mapping, monitoring, and management of cross-domain, disparate IT resources for more rapid troubleshooting and optimization. Hyperglance is available as a free trial via AWS Marketplace with tiered options to purchase for longer term use.
Hyperglance and AWS Marketplace customers can now easily achieve such benefits as:

Relevant, tenant, or multi-tenant, cloud topology insight within a single browser tab.
Rapid troubleshooting and optimization with greater context via secure resource controls from topology view.
Accurate validation of proper network segmentation required for security compliance such as for the Payment Card Industry (PCI) Data Security Standard.
Easy identification and reduction of anomalies, performance issues, under-utilized resources, and other problem areas without having to correlate events across different systems, tabular views, or same system modules.
"We are excited to be offering customers an extremely easy and cost effective way to run Hyperglance," said Stace Hipperson, CEO and Founder, Hyperglance Ltd, "Hyperglance availability in AWS Marketplace enables customers to gain valuable cloud topology insight whenever they need it, such as for security compliance or resource optimization, or for ongoing monitoring and management with greater context."
Clearly See the What, Where, and Status of Cloud Services Being Utilized
Hyperglance 4.0 includes integration with AWS compute, networking, and storage infrastructure services such as EC2, VPCs, RDS, DynamoDB, and EBS Volumes. AWS CloudWatch is also integrated to layer alerts onto the topology view so users can see exactly where alerts are in relation to other potentially affected resources or dive into detailed metrics data. Hyperglance 4.0 in AWS Marketplace also includes integration with OpenStack and Nagios® to unify IT resource visibility and control across domains as well as across public and private cloud systems. More integrations will also be added throughout this year for even greater hybrid IT insight, such as with VMware, Docker, and more.
Hyperglance specializes in API integration, data aggregation, advanced physics, and gaming graphics methods to automatically map IT resource data into a dynamic 3D topology visualization with 360-degree navigation including zoom; attribute, alert, and metric data insight on-demand; and secure resource actions. Hyperglance requires no client software or IT agents to be installed, nor multiple product modules, for a complete view. Cohesive cloud visibility and control can be achieved within minutes.
Customers Gain Valuable Visual Context with Unique Capabilities to:

Provide only relevant views and actions via Role-based Access Control (RBAC) and AWS Identity & Access Management (IAM) security
Automatically map AWS and OpenStack resources as well as monitoring/alert data across infrastructure domains, VPCs, regions, and accounts.
Navigate through an accurate and clear topology view of cloud resources' type, state, links, end-points, and alerts.
Explore detailed attribute, alert, and metric data, including security groups, route table details and CPU information, on demand with the click of a mouse, or touch of a finger.
Search across all integrated services and platforms with unified results.
Utilize the Hyperglance REST API to augment topology and data views with additional source data for customized insight.
Take secure, immediate actions, such as start, stop, or terminate an instance, directly from topology view for more efficient troubleshooting or optimization.
Hyperglance streamlines cloud mapping, monitoring, and management through a unified, interactive, 3D topology view that increases cross-domain and multi-cloud clarity, collaboration, and control. Hyperglance is available through AWS Marketplace as a free 14-day trial, or can be utilized longer term by the hour or annually via three extremely economic pricing tiers.
About Hyperglance
Hyperglance Ltd. is a leading-edge software company that is the first to offer comprehensive cross-domain IT relationship visibility with 3D clarity and interactive controls. Hyperglance enhances IT insight, performance, and management efficiency of highly virtualized, hybrid IT deployments including public and private cloud. Hyperglance is privately owned and headquartered in London, England. Visit us at http://www.hyperglance.com, or follow us on Twitter at @hyperglance. For more information, please email [email protected]