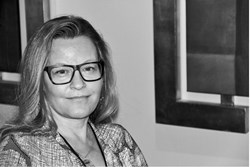 One of the major reasons why I joined Televerde is the business model.
Phoenix, AZ (PRWEB) December 12, 2013
Televerde, a leading provider of end-to-end marketing and sales solutions that make B2B pipelines stronger and faster with maximum ROI has hired April Brown as the Vice President of Demand Generation Services
For more than 20 years, April has been a professional in data-driven marketing. She has served as an employee, agency partner or strategic consultant for Intel, Lenovo, Nautilus, Nike, PNC Bank, Planar, Publicis Sage Software, Webtrends, and a host of enterprise-grade B2B software companies. April has experience in diverse roles that successfully integrate analytical methods with deep buyer-centric understanding in order to produce positive revenue results for clients.
April brings a conglomeration of experience in the fast moving fields of marketing automation, lead management, demand generation, metrics, and business processes. She has worked in direct response, branding, DRTV, creative leadership, agency management, classic CPG market strategy and planning, market research, DR post campaign analysis, and new product and brand development and execution.
"One of the major reasons why I joined Televerde is the business model," said April Brown, "With the breadth of services Televerde has to offer, they are poised to be a world leader in the space and I am excited to be a part of that journey."
James H. Hooker, Televerde's President and CEO commented, "April is the marketer's marketer. Fast paced and visionary, in just a few short weeks, I would best characterize April as a game changer."
Televerde's solutions directly address early, mid and late-stage pipeline challenges that many B2B marketing and sales executives in tech and non-tech companies struggle with – regardless of the size or growth rate of their company, the complexity of their sales process, or the markets they're targeting. For more than 17 years, Televerde has generated more than $4.2 billion in revenue for over 2,000 B2B tech and non-tech clients – high-growth, SMB and enterprise. From strategy to operations, its solutions help clients close the gap between sales expectations and reality. For more information, visit http://www.televerde.com or its blog or call at +1 888-787-2829.