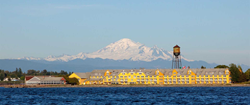 Pittsburgh, PA (PRWEB) September 15, 2015
Aptech Computer Systems announced Coastal Hotels with 4 properties in the western US selected Execuvue® Enterprise Business Intelligence and Targetvue Budgeting and Forecasting. Margaritaville Beach Resort will also install Aptech's Profitvue Enterprise Financial Accounting for its 349-room destination property in Hollywood, FL. Aptech is the leading provider of hospitality software for business intelligence, budgeting, and enterprise financial accounting. Click here for more on Aptech's products and services.
"The hospitality industry is strong and growing. As hotel companies add properties, understanding their cash flow and profitability are more important," said Cam Troutman, Aptech vice president. "Same-day performance reporting and analysis are essential. Hundreds of multi-property and standalone operators rely on Aptech's financial tools to support expansion and decision making."
Seattle-based Coastal Hotels selected Aptech to provide the Execuvue® Enterprise Business Intelligence System and Targetvue budgeting and forecasting solution. Execuvue automates the daily data collection from multiple entities and enables operators to create and monitor important KPIs. The system delivers a huge business advantage that helps companies reduce costs, improve labor efficiencies, and increase profitability.
Targetvue is Aptech's hospitality-driven budgeting and forecasting solution. Aptech developed a budgeting and forecasting application fully-integrated with its Profitvue accounting and Execuvue business intelligence systems. Using its hospitality driver for accuracy and ease of changes, Targetvue provides one version of the truth throughout the organization. Targetvue eliminates the need to distribute and import multiple spreadsheets for consolidating and reporting.
The 349-room Margaritaville Hollywood Beach Resort will install Aptech's Profitvue® Enterprise Back Office System. Profitvue is a widely used Internet-enabled enterprise back office solution that easily handles single or multi-property and multi-company accounting, and incorporates accounts payable, general ledger, statistics, and financials. Profitvue is available as an ASP service or on a licensed basis.
About Coastal Hotels
Coastal Hotels is an innovative hotel hospitality management company specializing in distinctive upscale hotels, resorts, inns, and lodges. Established in 1987, the Coastal portfolio currently consists of independent boutique lodging properties – Cedarbrook Lodge, an award-winning conference and leisure hotel in Seattle; Semiahmoo Resort, Golf, and Spa, an iconic seaside destination in Blaine, WA.; Lodge on The Desert, a historic southwest urban retreat in Tucson, AZ; and Heritage Inn with colonial charm in Bellingham, WA. For more information about Coastal Hotels, visit http://www.CoastalHotels.com.
About Margaritaville Hollywood Beach Resort
Inspired by the lyrics of Jimmy Buffett, the all-new, 349-room Margaritaville Hollywood Beach Resort is a full-service oceanfront resort and entertainment complex offering amenities and services that create the perfect setting to escape the everyday. Conveniently located on South Florida's legendary Hollywood Beach Broadwalk in Hollywood, Florida, the destination resort features multiple waterfront venues, including eight diverse restaurant and bar concepts, a full-service spa, a recreational area with three pools, a FlowRider® Double, live entertainment and more. With this extensive array of amenities and a high level of hospitality, service and attention to detail, the 17-story property brings an entirely different vacation experience to South Florida. Plan a visit today!
About Aptech Computer Systems, Inc.
Aptech Computer Systems, Inc., based in Pittsburgh, Pennsylvania, is the only provider of a fully integrated enterprise accounting, business intelligence and planning ecosystem to the hospitality industry. All of its clients are companies like yours, which own or manage hotels. Its solutions help customers at both the corporate and property levels understand their financial and operational data for faster goal achievement.
The company is renowned for introducing business intelligence into the hotel industry, and offers a solid resource of hospitality professionals. Aptech is an IBM Software Value Plus partner and Premier Solution Provider.
Incorporated in 1970, Aptech's state-of-the-art back office, true business intelligence and enterprise planning solutions are 100% hotel specific. Solutions include Profitvue®, Execuvue®, Webvue® and Targetvue. Clients comprise over 3,200 properties - including large chains, multiple-property management companies and single-site hotels. Execuvue and Profitvue are registered to Aptech Computer Systems, Inc. All other trademarks are owned by their respective holders. For more information please visit http://www.aptech-inc.com.