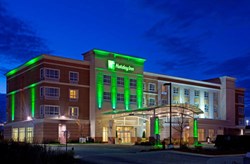 We selected Aptech's Execuvue Business Intelligence because it will enable us to manage our properties more successfully with fast access to accurate operating data.
Pittsburgh, PA (PRWEB) January 29, 2014
Aptech Computer Systems, Inc., the leading provider of hospitality software for business intelligence and enterprise financial accounting, announced that three hotel companies with a total of 20 properties selected Aptech Execuvue® Business Intelligence and Profitvue® Enterprise Back Office systems. New Aptech clients include MHG Hotels, LLC. and LTS Hospitality Management. Click here for more on Aptech's products and services.
Execuvue is a reliable IBM Cognos-based ASP enterprise hospitality business intelligence application that enables faster goal achievement for large and small hotel companies. Profitvue is a widely used thin-client, Internet-enabled enterprise back office solution that handles single or multi-property and multi-company accounting. Profitvue incorporates accounts payable, general ledger, statistics, and financials.
Execuvue Gives Properties Access to Operating Data for Decision Making
"We selected Aptech's Execuvue Business Intelligence because it will enable us to manage our properties more successfully with fast access to accurate operating data," said Rex Martin, vice president of MHG Hotels, LLC. "Execuvue lets us use one system to review performance for individual properties, all properties with the same brand, or for our entire portfolio. The system provides seamless data transfers from our different PMSes and flexible ready-to-use report packages." MHG Hotels, LLC operates 11 properties that include multiple flags and independents.
LTS Hospitality Management, with 8 properties, will install Aptech's Profitvue ASP Enterprise Back Office Accounting system. John W. Lott, CHA, president of LTS Hospitality Management, said, "We selected Aptech because we wanted to get as close as possible to a 'live' P&L at each of our hotels. Profitvue delivers seamless integration with our ADP payroll system. This will reduce the lag time to create accurate financial reports. With 24-hour businesses, like hotels, access to current operating information is essential. Aptech will provide it." Aptech will host LTS' enterprise back office system platform.
Execuvue Comes With Pre-Configured 'Jump-Start' Report Packages for Faster Goal Achievement
"Execuvue is a true BI system that enables operators to make quick, accurate decisions based on standardized information seamlessly collected from multiple systems and properties," said Cam Troutman, vice president of Aptech Computer Systems. "Aptech designed Execuvue and Profitvue to be easy-to-use tools for property and corporate staff. They can automatically distribute data in any user-configured frequency and format, including PDF, Excel, and mobile-compatible views. Aptech provides its systems with preconfigured jump-start report packages for faster goal achievement by corporate and property staff."
Aptech is the hotel industry's only provider of a fully integrated enterprise accounting, business intelligence, and planning ecosystem. Aptech offers 100% more customer-centric options for hosting, pricing, and product solutions than any other hospitality-focused systems provider.
With more than 3,000 property clients, Aptech recognizes that each professional in the hospitality industry views accounting differently. The company delivers customized, web-enabled solutions that can fit any operating requirement, including distributed accounting, centralized accounting, regional accounting, or any combination needed to meet a company's unique operation.
Aptech Computer Systems
Aptech Computer Systems, Inc., based in Pittsburgh, Pennsylvania, leads the hospitality industry in leveraging change by valuing human relationships and applying technology to solve business problems for people. The company is renowned for introducing business intelligence into the hotel industry and offers a solid resource of hospitality professionals. Aptech is an IBM Software Value Plus partner and Premier Solution Provider.
Incorporated in 1970, Aptech is a hospitality financial and operations technology solutions and service company. Aptech's state-of-the-art back office, business intelligence, and enterprise planning products include Profitvue®, Execuvue®, Webvue® and Targetvue. Clients comprise more than 3,000 properties - including large chains, multiple-property management companies, and single-site hotels. Aptech's solutions help customers understand their financial and operational data to lower expenses or increase profitability. Execuvue and Profitvue are registered to Aptech Computer Systems, Inc. All other trademarks are owned by their respective holders. For more information please visit http://www.aptech-inc.com.
Exchange ideas and connect with Aptech on Twitter, Facebook, and LinkedIn.