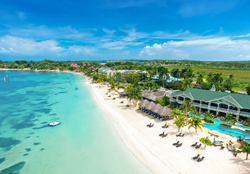 We can drill down into any of the data in the newest Execuvue reports, plus they are very easy to understand.
Pittsburgh, PA (PRWEB) November 18, 2014
Aptech Computer Systems announced that Sandals Resorts International (SRI) upgraded to the latest Execuvue Business Intelligence for easy-to-use, flexible global reporting for its 21 resorts throughout the Caribbean. SRI operates Sandals, Beaches and Grand Pineapple Beach Resorts. Aptech is the leading provider of hospitality software for business intelligence, budgeting, and enterprise financial accounting. Click here for more on Aptech's products and services.
Execuvue BI enables Sandals to make decisions on near real-time performance information
"Sandals implemented Execuvue Business Intelligence in 2003 to collect and analyze data from all its properties. The newest Execuvue version simplifies interactive report creation and adds dashboard capability with property performance updates throughout the day," said Joanne Pearson, Director of Corporate Reporting for SRI and a Fellow of the Chartered Association of Certified Accountants. "The new Execuvue provides easy to use, flexible report formats and allows us to use color coding to highlight important exception information that makes it easy to highlight specific issues so we can react and make decisions on near real-time performance information."
Data in Execuvue is available faster, and the system makes it easier to create ad-hoc reports. "Our new Execuvue reports are also available in Excel formats for saving or running," Pearson said. "The Sandals' Finance team uses Execuvue dashboards throughout the day/week for current performance data on our properties. We are using it on our desktop PCs and laptops now and will move to tablets in the future. We can drill down into any of the data in the newest Execuvue reports, plus they are very easy to understand."
Sandals uses Execuvue's executive dashboards with KPIs, comparisons on one screen
Aptech Vice President Cam Troutman said, "The latest Execuvue version is based on the Cognos 10 platform. It automatically allows analysis of Sandals Resorts' data and the ability to create interactive reports and dashboards for each Sandals property. The SRI Team can have a daily snapshot of each Hotel's financial performance, labor costs against budget, and other KPI comparisons on one screen."
The new Execuvue release significantly increases data mobility and flexibility of access. Execuvue's flexible platform allows users to view dashboards with an array of data and a variety of charts or graphs. Anyone within an organization who requires performance management information can view it on whichever device best suits them wherever they may be. Execuvue leverages the latest IBM/Cognos tools to deliver mobile data to our users, and it is drawing an enthusiastic response from our multi-property, multi-flag operators."
About Aptech Computer Systems, Inc.
Aptech Computer Systems, Inc., based in Pittsburgh, Pennsylvania, is the only provider of a fully integrated enterprise accounting, business intelligence and planning ecosystem to the hospitality industry. All of its clients are companies like yours, which own or manage hotels. Its solutions help customers at both the corporate and property levels understand their financial and operational data for faster goal achievement.
The company is renowned for introducing business intelligence into the hotel industry, and offers a solid resource of hospitality professionals. Aptech is an IBM Software Value Plus partner and Premier Solution Provider.
Incorporated in 1970, Aptech's state-of-the-art back office, true business intelligence and enterprise planning solutions are 100% hotel specific. Solutions include Profitvue®, Execuvue®, Webvue® and Targetvue. Clients comprise over 3,200 properties - including large chains, multiple-property management companies and single-site hotels. Execuvue and Profitvue are registered to Aptech Computer Systems, Inc. All other trademarks are owned by their respective holders. For more information please visit http://www.aptech-inc.com.