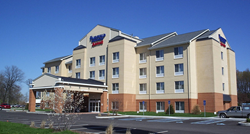 Execuvue makes it easy to add new hotels to our BI process as we open properties. We will continue to operate as a family business because we have the systems to manage better by the numbers.
(PRWEB) June 08, 2016
MHG Hotels is a family business success story. The owner-operator started with one motel, and now operates 11 properties that include Wyndham, Marriott Courtyard and Springhill Suites, Holiday Inn and Choice brands. "We were doing well small, but the time was right for the Patel family to grow with brands," said Gary Maass, director of operations for MHG Hotels LLC. "We wanted a bigger view of the hotel industry and to expand our place in it. Hospitality is growing and we are growing with it."
Sanjay and Ranjan Patel founded MHG 20 years ago and continue to operate the company today with the help of their two sons. "It is fantastic to be adding two hotels this year," Maass said. "As MHG grew, the family brought me on to oversee operations. My focus is gathering accounting and performance data from our properties, analyzing the hotel data and getting the information to our team so we can manage by the numbers. I use a BI system to do this."
Two years ago MHG installed the Execuvue Business Intelligence (BI) system from Aptech Computer Systems to support its expansion. "Our growth reached a point where Excel spreadsheets were no longer effective to track the performance metrics we use to measure the health of our hotels. It took a long time just to get the hotel data, let alone analyze it. For example, before we transitioned to BI, I had to open 55 files to get my property payroll reports. Today our BI system automatically gathers data from our properties via interfaces to our Hilton, Marriott, IHG and Choice property management systems (PMS) as well as our time and attendance systems. Now I open one Execuvue file to see everything in minutes."
Part of being a successful small operation is controlling expenses. "We tapped Aptech to host our BI system from their secure data center. This reduces our hardware and labor costs since MHG does not need an IT department," Maass said. "Aptech processes our information, creates and supports our reporting and manages our data. We do not need a big budget to benefit from Execuvue."
MHG uses specialized reports for individual property analysis and portfolio rollups. "Our 'E report' is a custom company accounting sheet with hotel data for revenue, profit center performance, expenses, occupancy, ADR and other measures. In the past, managers had to manually key in the numbers from our Marriott, Hilton and other brand reports," Maass said. "Today, our BI automatically populates the same familiar E report with accurate property numbers, including payroll, every day. Our reports are pure information that helps us be a stronger company and make better decisions faster. We are a small company that uses big tools."
Controlling labor costs is important to MHG. "We hold our GMs accountable for labor expenses," Maass said. "Execuvue pulls data from property time and attendance systems and formats it for instant use. We receive updates each night and the labor report goes back 28 days. If someone makes a change to the previous period, the report updates automatically. Aptech helped us make these reports exactly what we wanted. Having our own familiar reports makes the BI information easy for our staff to use as we add properties."
MHG is developing an expanded 'daily flash' report with year-over-year comparison of revenue, labor dollars, RevPAR and other measures to identify trends. "We will grab the information from PMSes, put it into an easily understood format, and send to properties," Maass said. "This will show who is performing and how well. Execuvue also rolls up our numbers for all properties for a high-level ownership view. We want to focus on labor. This is a top priority since it is a property's largest expense."
Company growth is a new way of life for MHG Hotels. "We have a healthy development pipeline," Maass said. "Execuvue makes it easy to add new hotels to our BI process as we open properties. We will continue to operate as a family business because we have the systems to manage better by the numbers."
Aptech is the leading provider of hospitality software for business intelligence, budgeting, and enterprise financial accounting. Click here for more on Aptech's products and services.
About MHG Hotels
MHG Hotels is one of the largest privately owned progressive companies specializing in providing investor and career opportunities, development, construction, and management services. Founded in humble beginnings with one hotel over two decades ago by Sanjay and Ranjan Patel, the company has matured into developing and operating over 30 hotels. For more information please click here.
About Aptech Computer Systems, Inc.
Aptech Computer Systems, Inc., based in Pittsburgh, Pennsylvania, is the only provider of a fully integrated enterprise accounting, business intelligence and planning ecosystem to the hospitality industry. All of its clients are companies like yours, which own or manage hotels. Its solutions help customers at both the corporate and property levels understand their financial and operational data for faster goal achievement.
The company is renowned for introducing business intelligence into the hotel industry, and offers a solid resource of hospitality professionals. Aptech is an IBM Software Value Plus partner and Premier Solution Provider.
Incorporated in 1970, Aptech's state-of-the-art back office, true business intelligence and enterprise planning solutions are 100% hotel specific. Solutions include Profitvue®, Execuvue®, Webvue® and Targetvue. Clients comprise over 3,500 properties - including large chains, multiple-property management companies and single-site hotels. Execuvue and Profitvue are registered to Aptech Computer Systems, Inc. All other trademarks are owned by their respective holders. For more information please visit http://www.aptech-inc.com.