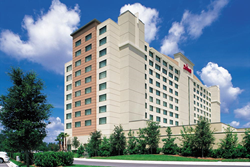 We installed Targetvue to easily let us create accurate budgets and forecasts and for analysis.
Pittsburgh, PA (PRWEB) December 02, 2014
Aptech Computer Systems announced that Pinnacle Hotel Management implemented the Targetvue Budgeting and Forecasting solution for 26 Marriott, Hilton, and independent properties. Targetvue is a hospitality-driven enterprise system that enables operators to easily compare plans with performance on a daily basis. Properties can build and implement more flexible plans to achieve business goals. Aptech is the leading provider of hospitality software for business intelligence, budgeting, and enterprise financial accounting. Click here for more on Aptech's products and services.
Targetvue monitors individual properties and central budgets for strategic oversight
"We installed Targetvue to easily let us create accurate budgets and forecasts and for analysis," said Felicia Matula, CFO for Pinnacle Hotel Management. "Targetvue automatically downloads general ledger data into our budget and forecast analysis. It accommodates 'on the books' data reporting on a daily basis." Matula noted that Pinnacle previously used Excel spreadsheet budgets that were difficult to build and maintain. "Our formulas are locked in Targetvue. Each property manager has his or her input screen where they can monitor budgets for their hotels.
Aptech offers secure network hosting; Targetvue eliminates the need for the 'spreadsheet shuffle'
Aptech hosts Pinnacle's Targetvue system from its secure network facility. "When it is fully installed, Targetvue will track the status of each Pinnacle property's contribution to the plan in real-time. Our system will provide managers with a single combined view of an entire asset portfolio and where each property stands in comparison to plan," said Jill Wilder, Aptech vice president.
"Pinnacle also uses Aptech's Profitvue® Enterprise Back Office Accounting System to centralize financial reporting for all its properties," Matula said. "Profitvue is hosted centrally and its daily financials inform Targetvue's real-time consolidation and rollups. It eliminates the need to aggregate and combine multiple spreadsheets for consolidated reports. Aptech is an experienced technology partner that understands Pinnacle's business goals and works with us to achieve them."
About Pinnacle Hotel Management
Pinnacle operates its own properties and those owned by other companies. It has completed 26 hotel development projects in markets such as Washington, DC; Florida; New England; and California. Pinnacle also successfully completed several brand conversion projects, including the Fairfield Inn and Suites Palm Beach; the Courtyard Key West; and the Boston Courtyard Billerica/Bedford. Pinnacle currently has a 138-suite Residence Inn by Marriott under construction in downtown Orlando and will begin a conversion of a 334-room hotel in Philadelphia to a Courtyard by Marriott. The Pinnacle Hotel Management portfolio includes more than 4,000 rooms and annual sales in excess of $150 million.
About Aptech Computer Systems, Inc.
Aptech Computer Systems, Inc., based in Pittsburgh, PA, is the only provider of a fully integrated enterprise accounting, business intelligence, and planning ecosystem to the hospitality industry. All of its clients are companies like yours, which own or manage hotels. Its solutions help customers at both the corporate and property levels understand their financial and operational data for faster goal achievement.
The company is renowned for introducing business intelligence into the hotel industry, and offers a solid resource of hospitality professionals. Aptech is an IBM Software Value Plus partner and Premier Solution Provider.
Incorporated in 1970, Aptech's state-of-the-art back office, true business intelligence, and enterprise planning solutions are 100% hotel specific. Solutions include Profitvue®, Execuvue®, Webvue®, and Targetvue. Clients comprise more than 3,200 properties - including large chains, multiple-property management companies, and single-site hotels. Execuvue and Profitvue are registered to Aptech Computer Systems, Inc. All other trademarks are owned by their respective holders. For more information please visit http://www.aptech-inc.com.
Exchange ideas and connect with Aptech on Twitter, Facebook, and LinkedIn.