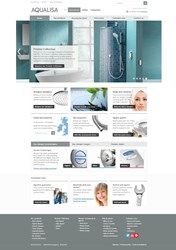 (PRWEB UK) 30 October 2013
Aqualisa, the award-winning shower manufacturer, has pushed the 'go live' button on its brand new website. Aqualisa's new site, which has been designed to be a fully interactive resource for trade and consumer customers, is being regarded as a considerable investment in 'future-proofing' the company's online presence and activities.
Aqualisa's new site has been built around a fresh, lifestyle-driven aesthetic that is underpinned by easily navigable product, technology and installation areas. Bold images of Aqualisa's showers, inspirational showering schemes and dream bathrooms abound, whilst essential information that includes interactive tools such as 'Help me Choose a Shower' and a 'Water System Compatibility Guide' are simple to find and straightforward to use.
From the beginning, Aqualisa was determined to improve its customers' online experience of Aqualisa – the brand, its showers, and showering technology. The company also wanted to create a site that would be interactive, inspirational and genuinely informative. However, with Aqualisa's customers ranging from installers and bathroom retailers to interior designers and consumers, designing and populating a web site that would fulfil the requirements of every customer group was always going to represent a significant challenge.
But a challenge is never a bad thing. A top navigation with homeowner, installer and trade partner options enables the visitor to view a browser-tailored version of the site, whilst Aqualisa's vibrant homepage features a large, lifestyle slider that allows visitors to click through to digital showers, mixer showers and electric showers.
Navigation to key areas such as shower ranges and shower technologies is visually led. Meanwhile, a highly visible, dedicated installer area means that Aqualisa's trade visitors can find exactly what they need – simply and without multiple clicks. Customer services are also clearly flagged, with contact numbers, technical helplines and downloads easy to find and accessible.
Aqualisa's new website was collaboration between the company's own, in-house marketing team and Wicked Web, who were briefed to design and build a website that would offer a digital experience only rivalled by Aqualisa's showers themselves. Aqualisa's innovation and enviable reputation for customer service were also highly influential themes throughout the development of the site's design and functionality.
Close attention to the latter has resulted in the site's unfussy style making it easy for the user to locate showering information. Scrolling downwards, there is the option to browse further Aqualisa product ranges, jump to an interactive Aqualisa shower selector or locate a nearby stockist. A comprehensive footer with multiple links ensures the swiftest of navigation.
Meanwhile, quick clicks to Aqualisa's Twitter, Pinterest and YouTube platforms make it easy for users to access the company's latest videos and social media. An informative range of shower installation and technical videos are available via the company's YouTube channel, whilst its regularly changing Pinterest boards serve to inspire and inform retailers, designers and consumers.
All this, however, is only the beginning. As impressive as Aqualisa's new website might be, the company has already commenced work on a second phase. It intends to offer the best, most interactive website amongst shower manufacturers and judging by this first stage, it is clear that objective will be realised very quickly indeed.