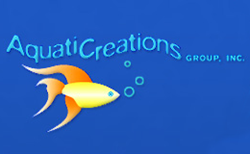 For the absolute best in aquarium maintenance, call ACG!
Raleigh, North Carolina (PRWEB) June 25, 2014
With over 30 years of experience in the aquarium industry, marine biologists Gil and Michelle Van Dykhuizen became owners of Aquatic Creations Group, Inc. in 2004 and are now celebrating 10 years of serving the Raleigh Triangle area. Son, Tyler Van Dykhuizen, has joined the team and manages the jellyfish culture unit, growing the moon jelly, Aurelia labiata. http://www.aquaticcreationsgroup.com/jellyfish/
Having industry experience, a reputation for superior customer service and an A+ rating from the Better Business Bureau, Aquatic Creations Group, Inc. has been chosen by the new Bass Pro Shops in Cary, NC to maintain their 15,000-gallon aquarium which features game fish found in the Carolinas.
Aquatic Creations Group, Inc. specializes in:

Expert aquarium maintenance for residential and commercial clients
Maintenance of large aquarium exhibits over 10,000 gallons
Professional aquarium installations
Custom aquarium designs and Custom cabinetry
Life support systems
Saltwater fish, reef and jellyfish systems
Freshwater fish and planted freshwater aquarium exhibits
Superior customer service
If you are looking for an aquarium maintenance company uniquely qualified to work with you to create a museum quality display, visit online to see what http://www.aquaticcreationsgroup.com has to offer.
Aquatic Creations is located at 4817 Hargrove Road, Suite 101, Raleigh, NC 27616. Phone 919-274-2724; Fax 888-599-2944; email a:quaticcreationsgroup(at)gmail(dot)com.