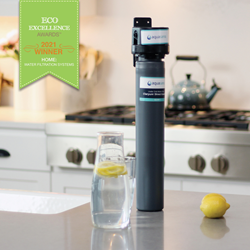 "We're always looking for new ways to provide families with easy access to clean water. With Claryum® Direct Connect, you get powerful contaminant reduction without the need for professional installation.
AUSTIN, Texas (PRWEB) August 31, 2021
Aquasana, maker of award-winning water filtration products for the home and on-the-go, has been named a 2021 Eco Excellence Award winner by b/well magazine for the sixth year in a row. As concern over harmful contaminants in drinking water continues to rise across the country, the company's new Claryum® Direct Connect under sink water filter has been recognized for its innovative easy-to-install design, maximum contaminant reduction and significant role in reducing plastic waste. In celebration, Aquasana is offering the Claryum® Direct Connect for just $99.99 (orig. $199.99) through Labor Day at aquasana.com.
"Spending more time at home the past year due to COVID-19 has caused families to become more concerned about the quality of their drinking water," said Derek Mellencamp, general manager at Aquasana. According to the company's third annual Aquasana Water Quality Survey, the pandemic has had a larger impact on water quality concerns among parents than the rest of the population. In fact, 90% of parents said they are spending more time at home due to the pandemic, and over half said it has increased their concerns about their tap water quality.
"We're always looking for new ways to provide families with easy, instant access to clean drinking water. Over the past year, the unique challenges presented by the pandemic have made do-it-yourself setup more important than ever. With Claryum® Direct Connect, you get powerful contaminant reduction without having to bring a professional into your home for installation," said Mellencamp.
Aquasana's Claryum® Direct Connect is an easy-to-install, fast-flowing water filter that removes up to 99% of 77 contaminants, including lead and PFOA/PFOS, without the need for a plumber. Introduced in late 2020, the under sink filter connects directly to any cold-water line – whether in a kitchen, bathroom, laundry room, dorm room or butler's pantry – for quick, DIY access to clean, healthy water through an existing faucet. Each replaceable filter lasts six months and displaces the equivalent of over 6,250 plastic bottles of water.
The Eco-Excellence Awards™ is a family-focused media awards program that recognizes exceptionalism in sustainability and wellness. Hosted by b/well, formerly known as Natural Child World magazine, the months-long selection process started with in-depth product reviews conducted by a jury of media editors, celebrity judges, influencers, b/well's Parents Lab and wellness experts. The judges then narrowed down over 560 different entries to five finalists per category and opened the final selection process to public voting.
"Aquasana is dedicated to helping families improve their overall wellness by providing access to clean, healthy water. We're honored to have been recognized six years in a row with numerous Eco Excellence Awards by such a prestigious organization with values that align with our own," added Mellencamp.
To purchase the Claryum® Direct Connect for $100 off through September 6th and learn more about the third annual Aquasana Water Quality Survey, visit aquasana.com.
About Aquasana
Aquasana, an A. O. Smith Corporation company (NYSE-AOS), is dedicated to improving the overall health and wellness of every home by delivering clean, healthy, and great-tasting water through its best-in-class water filtration systems. Aquasana's family of award-winning premium water filters – including whole-house filtration systems, shower filters, under sink and countertop filters, reverse osmosis systems and portable filter bottles – provide easy and immediate access to healthy water at home and on the go.