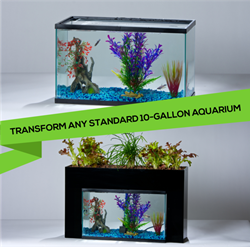 We are the people with dirt under out nails, grass stains on our jeans, and ideas in our heads. Shannon Crow, co-founder of AquaSprouts
Austin, Texas (PRWEB) March 04, 2014
AquaSprouts™, an aquaponics design company, announced the start of their Kickstarter campaign to fund the AquaSprouts Garden. The AquaSprouts Garden is an affordable countertop aquaponic system that combines nature, functionality, and beauty in a new way. What sets the AquaSprouts Garden apart from other aquaponic units is its compatibility with a standard aquarium and its modern design. This system turns a ten-gallon fish tank into an aquaponic garden, a perfect tool to explore how the natural environment works: fish waste fertilizes the plants and the plants filter the water in the tank. This symbiotic relationship naturally balances itself, eliminating the need for a filter, toxic fertilizers, and other chemicals that harm fish and contaminate food.
"Aquaponics gives environmentally conscious households ways to engage the natural world. With the AquaSprouts Garden, we're able to see first hand how our natural world works right from your aquarium," said Jack Ikard, CEO and co-founder of. The natural relationship between fish and plants create an ecosystem inside the Garden, which showcases the beauty of this natural cycle. With a spacious grow-bed, the AquaSprouts Garden can grow leafy greens, vegetables, flowering plants and much more. Designed to be aesthetically pleasing, the Garden's fresh plants and fish complement the décor of any space.
Attention to design without sacrificing functionality defines AquaSprouts' vision. "We are the people with dirt under out nails, grass stains on our jeans, and ideas in our heads," said Shannon Crow, co-founder of AquaSprouts. Aquaponics systems have proven their worth in large-scale operations, and AquaSprouts is able to bring that innovation into the home. The AquaSprouts Garden is designed to educate and nourish people and communities. It makes stewardship of the environment a personal and hands-on experience.
The AquaSprouts Garden can be pre-ordered on Kickstarter at https://www.kickstarter.com/projects/aquasprouts/aquasprouts-aquaponics-self-cleaning-aquarium-and from $139 to $175.
About AquaSprouts LLC:
AquaSprouts™ is an aquaponics design company based in Austin, TX. Founded in 2013 by Jack Ikard and Shannon Crow, two St. Edward's University students, AquaSprouts specializes in producing high quality products for "Bringing the Outdoor Environment into Yours." AquaSprouts is a for-profit business designed to promote environmental stewardship and education.