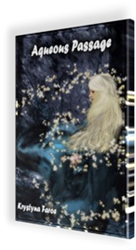 As a child I had a vision. After a troubling night of sleep I awoke and saw someone across the room.
Ontario, Canada (PRWEB) March 18, 2015
In Krystyna Faroe's newly released novel 'Aqueous Passage' the reader is drawn into a fantasy world set in post-apocalyptic year 2032. Its release on March 13th, 2015 coincides with ghost walks and other paranormal events taking place in an unusual year where two subsequent months have a 13th day landing on a Friday. For some the correlation of a month gap changes its ominous 'bad' luck day to one of 'good' luck. As Friday the 13th renews interest in the mystical, the release of 'Aqueous Passage' has relevance of its own by delving into the paranormal and supernatural.
Readers of 'Elanclose' have been introduced to mind readers and Willow, a girl with the ability to read peoples auras. In the sequel Willow begins to reach out to those who've died. The surviving clans were children the Devastation leaving only the young untouched. Six years later they've struggled to adapt and grow their perception of right and wrong carved out only by survival. It's a difficult transition for them as they enter adulthood but the auras offer guidance and protection to a degree.
Krystyna says "As a child I had a vision. After a troubling night of sleep I awoke to someone sitting across the room. The person sat on the edge of the wooden step leading into my closet. I thought it was my mother but it wasn't, it was Jesus. The apparition wore a robe; his long curls cascading down his shoulders. He gave the top of his nose a slight nudge with his finger and I dived beneath the covers in shock. I was afraid, squeezing my eyes shut to calm myself. Gathering up courage I told myself no one was there and looked again to see nothing. I've always thought since that it was sleep induced imagery.
Whilst writing 'Aqueous Passage' I delved into the paranormal by reading stories of people's experiences and scientific papers but concluded that science is lacking ways of research. These drove me to further develop Willow's character and her affinity to auras. My interest is in spiritual metaphysics and those who are working towards scientifically explaining unusual occurrences. For instance, is the Dark Plasma Theory (2008) real? Dark Plasma much like Dark Matter is unseen but present around the earth only visible when attracted to carbon-based body bio-plasma, thus giving presence by spheres of light.
Recorded weights of a person before death and after have shown a reduction when the body dies. Giving question, what leaves the body when we die? Based on that, why during my childhood did a game where four children tried to pick me up from a floor but couldn't, could, after I went into a meditative state? During which time they told me a story where I died, a creepy game that worked every time.
In some cultures a window is opened after a death to let the spirit leave, this has been ongoing for years. Those who follow supernatural activities are in pursuit of the elusive but what is it exactly? Is it terrestrial or was it originally from a carbon based body or something else? With so many unanswered questions about the soul it may now be a time where it could be proven that the spirit does continue outside of the body. In which case can it re-enter a body? In 'Aqueous Passage' I have gone with the belief that it can."
The paranormal grabs people's attention in books, movies and television shows. With the increase of paranormal groups it isn't unusual to find investigators situated locally. Life after death has been considered, disputed, unproven, falsified and mocked but still people want to believe. Interpretation of the Quantum Field Theory (QFT) tells us that atoms make up our bodies and if there was anything beyond that it would have already been found. Hence life after death cannot be. If the (particle) matter within us is only physical then what of particles made up of the spirit? If there cannot be spirit particles in QFT (1950's) then we need another theory to come up with answers. Albert Einstein quoted in 1932 - "There is not the slightest indication that nuclear energy will ever be obtainable. It would mean that the atom would have to be shattered at will." Reading his quote it's realized that even the best can be proved wrong.
Willow, in 'Aqueous Passage' empties her mind, fearlessly opening up to the auras, bringing her closer to understanding them. This fantasy book asks people not to refute the unexplainable blindly but to open their minds and question, what is the truth?
Krystyna has published books and articles in North America and Internationally. Her travel reviews have been rated in the top 3% in the Toronto area. She is presently working on her conclusion to 'Elanclose' and 'Aqueous Passage' in 'Travertine'.
'Aqueous Passage' is published in e-book format by eBookIt.com and is available from online stores: Amazon, Chapters Indigo, Barnes & Noble, iBookstore, Readerstore, Google's eBookstore and Ingram Digital. For more information about the author and her novels please visit http://www.elanclose.ca
About eBookIt.com
Since 2010, eBookIt.com (based in Sudbury, Massachusetts) has helped thousands of authors and publishers get their books converted to ebook format, and distributed to all the major ebook retailers.
##