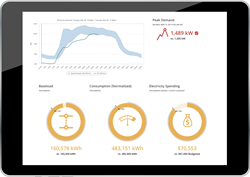 Commercial buildings in the U.S. spend an average of $2.70 per square foot on utility bills every year. Up to a third of that money could be saved with better energy and water management.
Washington, DC (PRWEB) April 04, 2017
Aquicore, a market leader in commercial real estate energy technology, announced the latest round of updates today to its energy suite for commercial real estate professionals. The latest release adds new features and customer focused improvements, including predictive energy monitoring, smart building goals, mobile responsive dashboards and deeper Energy Star integration.
Commercial buildings in the U.S. spend an average of $2.70 per square foot on utility bills every year. Up to a third of that money could be saved with better energy and water management. The latest Aquicore updates help commercial real estate professionals to better track, monitor, analyze and optimize their buildings' performance in the office or on the go. By simplifying the tracking of targets and improving Energy Star integration, Aquicore customers can more easily manage their buildings, budgets and operations.
"Commercial real estate professionals rely on Aquicore to deliver real-time building performance information through IoT connected meters," said Logan Soya, CEO and founder of Aquicore. "Our latest rollout of customer-focused features and improvements delivers more contextual information to help guide them in making data-driven optimizations without requiring them to be energy experts."
New features in the Spring '17 rollout include:
Smart Building Goals: Designed to measure a building's performance against customizable success metrics, building goals deliver simple, easy-to-understand visualizations that answer the most important questions building teams are asking. Targets apply to every measurement in the Aquicore energy suite, including budget tracking, consumption, base load and peak demand.
Real-Time Forecasting: Forecasting tools help contextualize a building's daily metrics. Aquicore paints a range of expected energy usage given a building's historic consumption patterns and the current weather forecast. This offers building teams a cutting-edge tool for evaluating how their building is likely to behave for the day and whether variations in consumption are within historic norms or require attention.
Mobile Dashboards: Users get instant access to building or portfolio data on any mobile device. No matter where they are, users can keep track of what's happening across every building in their portfolio. Dashboards are simple to set up, with one-tap access to everything from top-level insights to granular details.
Deeper Energy Star Integration: Connect to the most important energy efficiency scoring platform in the U.S. The latest updates include direct meter data integration, which simplifies the steps necessary to update and maintain an Energy Star account, and may result in an increased Energy Star score when compared with utility feed data. The Aquicore energy suite will also pull buildings' scores in real time for better visibility into this key metric.
-
About Aquicore
Founded in 2011, Aquicore has rapidly cemented its reputation as a key player in building efficiency. Using state-of-the-art digital sensors, data analytics and user interface techniques, Aquicore tracks building utility consumption to offer a more complete picture of a building's performance, which can be acted upon by building teams quickly and easily. Aquicore serves customers in over 450 buildings and counting, and helps save millions of dollars in reduced utility expenditures and avoided losses. Powerful analytics tools, an intuitive user interface and an average nine-month payback time all contribute to Aquicore's consistent best-in-class reputation. For more information, please visit aquicore.com or follow @Aquicore on Twitter.