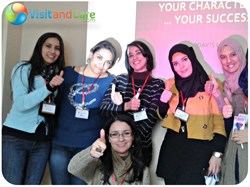 We have distinct growth due to our instructive Arabic-speaking employees from a geographically opportune location, through extensive Arabic-media consumption, and the cultural dynamics.
New York, NY (PRWEB) February 18, 2014
Accessible healthcare services tend to be limited in the Arab nations. The idea of preventive care was once an unknown luxury. Today, Arabic patients are teeming demand for medical tourism giant, VisitandCare.com. The company announced this week that since 2012, it has seen a 60 percent increase in traffic to its Arabic-language website, ar.VisitandCare.com.
The company has set out to educate its Middle-Eastern patients and enhance awareness to its exclusive healthcare providers. CEO and Founder of VisitandCare.com, Tolga Umar, stated, "Our goal is to be one of the most attractive healthcare marketplaces for our middle-eastern patients, for us it is about assisting individuals through one of the major investments they can make — their health."
VisitandCare.com employs Arabic-speaking patient coordinators to directly communicate and assist patients seeking healthcare services. With a rush of patients craving luxurious medical facilities, Maha Issawi, Patient Facilitator Manager of VisitandCare.com Tunisia, stated, "I've seen patient leads increase over 50 percent. The Arab market is imperative to our success."
Opening Up New Revenue Streams
Last week, VisitandCare.com unveiled plans to increase its employee volume at its Tunisia-based offices, the company's sister headquarters outside of Turkey. The move will enable them to double its services for Arabic patients, as well as collaborative efforts across its network, including corporate offices in the United States and Mexico.
As many medical tourism companies extend their marketing into numerous sectors, VisitandCare.com captures additional revenue streams through its Arabic website. The company has not overlooked the role that the internet can have for Middle-Eastern healthcare alternatives. Patients can learn about treatments, get a free quote, and connect with exclusive doctors. The company has also witnessed a flood of Arabic patients visiting its Facebook page — another distribution channel that gives patients access to information 24 hours a day — at their convenience.
As more and more patients in the Middle East demand information on where and how to obtain medical services — enhancing access to healthcare is increasingly important.
Enhancing Access to Healthcare Providers
The future success of medical tourism agencies will depend on their ability to identify with Arab patients and the social and cultural shifts expected to accompany their continued growth.
Brandie Umar, Executive Director of VisitandCare.com, explained, "Arabic patients have amassed significant purchasing power in a subpar healthcare industry. While many companies simply do not cater to the Middle-Eastern market, we have distinct growth due to our instructive Arabic-speaking employees from a geographically opportune location, through extensive Arabic-media consumption, and the cultural dynamics within our company."
Highlighting some of the key specialties for its Arabic patients, VisitandCare.com offers its patients the most exclusive providers in plastic surgery, hair transplantation, orthopedics, infertility, laser eye surgery, heart surgery, and cancer care.
In an effort to sustain the high number of patient arrivals, the company has found ways to deliver healthcare effectively at significantly lower costs — while improving access and increasing quality. Merely identifying and marketing providers isn't enough, the company continually conducts research on the most promising innovative forms of health care delivery and, in particular, understands how these innovations have changed the medical tourism industry.
About VisitandCare.com
VisitandCare.com was created to give individuals worldwide valued direction locating a doctor, obtain free medical treatment quotes, and uncover affordable medical treatments at destinations of their choice. Improving Patients Lives |The company provides access to exclusive doctors and hospitals who specialize in infertility, plastic surgery, cosmetic dentistry, laser eye surgery, orthopedic surgery, hair transplantation, weight loss surgery, heart surgery and cancer care. Patients are matched with devoted multilingual patient facilitators and provided tangible connections to doctors worldwide.
Promoting Your Healthcare Brand | For the ultimate connection between the healthcare industry and patients worldwide, the company delivers an unrivaled commitment to create sustained value for medical partners. Contact VisitandCare.com to see if you are eligible to become a partner of the exclusive network.