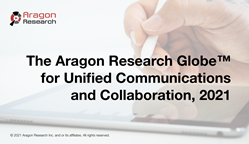 One of the best ways enterprises can enable their remote teams is by providing seamless forms of communication and collaboration among employees and customers
PALO ALTO, Calif. (PRWEB) June 22, 2021
The big theme for 2021 and beyond is intelligent communications and collaboration as the age of understanding is now here.
Aragon Research identifies sixteen major providers in its fifth annual Aragon Research Globe™ for Unified Communications and Collaboration, 2021, published today. The report states that the need for integrated voice, video meetings, and messaging is vital and the unified communication and collaboration (UC&C) market is growing and changing in response.
The digital workplace is growing increasingly virtual in order to support remote work, which took off in 2020. UC&C platforms offer the ability to support different modalities of communication, which is vital to achieve seamless collaboration between people working from different places.
"One of the best ways enterprises can enable their remote teams is by providing seamless forms of communication and collaboration among employees and customers," says Aragon CEO and Lead Analyst, Jim Lundy. "We are seeing innovative solutions from UC&C providers who are looking to help enterprises make this happen."
UC&C platform providers offer multiple means of communicating—calls, voice, video meetings, and enterprise-grade messaging–meaning that they can meet many different enterprise needs. This increase in use cases for UC&C platforms is encouraging the market to grow and become more intelligent; Aragon is predicting that by 2025, a majority of enterprise UC&C offerings will have significant intelligence capabilities.
The providers evaluated in this Globe report include: 8x8, Avaya, Cisco, Dialpad, Fuze, Google, Intermedia, LogMeIn, Microsoft, Mitel, NEC, Nextiva, RingCentral, Unify, Vonage, and Zoom.
Enterprises should use this report to carefully evaluate UC&C providers to ensure that current and future capabilities will meet their needs. Aragon clients can access the Aragon Research Globe™ for Unified Communications and Collaboration, 2021 in the AIN client community or on aragonresearch.com.
About Aragon Research
Aragon Research delivers high-impact visual research, consulting, and advisory services to provide enterprises the insight they need to make better technology and strategy decisions. Aragon Research serves business and IT leaders and has a proven team of veteran analysts. For more information, visit https://www.aragonresearch.com/.