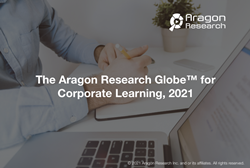 Enterprises need to take a step back and examine their current shortfalls in delivering a robust training and learning environment
PALO ALTO, Calif. (PRWEB) October 07, 2021
Aragon Research identifies eighteen major providers in its tenth annual Aragon Research Globe for Corporate Learning, 2021, published today. The report states that the corporate learning market is growing as the need for learning has become a critical part of employee engagement in the post-pandemic world.
The learning market has shifted and it is now focused on skill and knowledge mastery. Part of engagement is onboarding and enhancing an individual's professional skills. For this reason, corporate learning, more than any other capability in talent management, is really poised to become part of what Aragon is calling an employee engagement platform.
One of the fastest ways to improve the organization's performance is to enhance the operational knowledge of the workforce. This makes learning much more of a strategic focus than it ever has been, and that is why more organizations are realizing that they must invest more in learning, not less.
The report outlines five corporate learning journeys that need to be addressed. These include:

Onboarding
Basic Skills
Job Specific Learning Paths
On the Job Experience
Microlearning
"Enterprises need to take a step back and examine their current shortfalls in delivering a robust training and learning environment," said CEO of Aragon Research Jim Lundy. "Knowledge is a catalyst for employee engagement and operational excellence."
The providers evaluated in this Globe report include: Axonify, BenchPrep, Blackboard, Cegid, Cornerstone OnDemand, CrossKnowledge, D2L, Degreed, Docebo, Gyrus Systems, Inkling, Meridian Knowledge Solutions, NovoEd, Oracle, PeopleFluent, Qstream, SAP SuccessFactors, and Skillsoft/SumTotal.
Enterprises should use this Globe report to help them begin evaluating corporate learning providers and to understand where the market is headed. Aragon clients can access The Aragon Research Globe for Corporate Learning, 2021 in the AIN client community or on aragonresearch.com.
About Aragon Research
Aragon Research delivers high-impact visual research, consulting, and advisory services to provide enterprises the insight they need to make better technology and strategy decisions. Aragon Research serves business and IT leaders and has a proven team of veteran analysts. For more information, visit https://www.aragonresearch.com/.