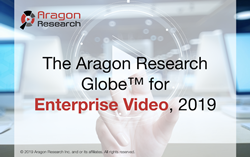 Video is here to stay and is now one of the key components of the digital enterprise.
PALO ALTO, Calif. (PRWEB) November 14, 2019
Aragon Research identifies fifteen major providers in its sixth annual Aragon Research Globe for Enterprise Video, 2019, published today. The report states that the enterprise video market is growing as the need for richer, video-enabled customer journeys grows.
Knowledge workers are utilizing video within the enterprise and are incorporating it into their daily lives. As video continues to grow in popularity, enterprises must abandon an ad hoc approach and develop a comprehensive video strategy. Aragon notes that there are two populations to keep in mind when it comes to developing a video strategy: employees and customers.
Video is a catalyst for employee and customer engagement. When it comes to communications, meetings, training, security, and many other use cases, video communications and video content is winning in the race to digital.
The report outlines the modern enterprise video architecture which includes:

Capture/Recording and Publishing
Video Content Management/Portal
Live Video: Streaming and Integration
Content Analytics
"The sooner that enterprises embrace enterprise video, the sooner they will see greater satisfaction rates from employees and customers," said CEO of Aragon Research Jim Lundy. "Video is here to stay and is now one of the key components of the digital enterprise."
The providers evaluated in this Globe report include: Brightcove, gomo Learning, Haivision, IBM, Kaltura, MediaPlatform, Microsoft, movingimage, Panopto, Qumu, Ramp, Sonic Foundry, uStudio, Vbrick, and Vidyard.
Enterprises should use this Globe report to help them begin evaluating enterprise video providers and to understand where the market is headed. Aragon clients can access The Aragon Research Globe for Enterprise Video, 2019 in the AIN client community or on aragonresearch.com.
About Aragon Research
Aragon Research delivers high-impact visual research, consulting, and advisory services to provide enterprises the insight they need to make better technology and strategy decisions. Aragon Research serves business and IT leaders and has a proven team of veteran analysts. For more information, visit https://www.aragonresearch.com/.