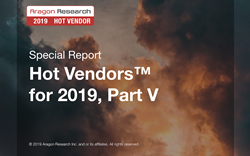 It's critical that organizations begin training their business and IT staff to start with outside-in thinking.
PALO ALTO, Calif. (PRWEB) October 15, 2019
In its latest Hot Vendors report, Aragon Research Inc. identifies emerging vendors in three markets: board meeting platforms, customer experience cloud, and enterprise backup and recovery.
Board meeting solutions have become more popular as the need for more regular interactions between boards of directors have become vital. The Hot Vendors for Board Meeting Platforms research note identifies three Hot Vendors who offer work hubs that enable boards to plan, execute, and follow-up on their tasks related to the oversight of their entity.
The world of customer engagement is changing largely due to changing customer expectations, which are being driven by the emergence of digital business and its ability to expand product customization opportunities. As a result of this evolution, Aragon has identified a shift in how organizations understand and engage with their customers: context-driven customer engagement (CE). This approach shifts from an inside-out to an outside-in approach and leverages AI to understand the customer's context first and foremost.
"We believe this type of AI-enabled context-driven engagement will initially be supported to engage premium customers who have a preferred relationship with their provider," said CEO of Aragon Research Jim Lundy. "It's critical that organizations begin training their business and IT staff to start with outside-in thinking."
Aragon identifies four Hot Vendors that are making a difference in the customer experience cloud market.
In an era of unprecedented malware and ransomware attacks, enterprises of all forms are under siege. IT organizations have traditionally had robust backup and recovery architectures for mission critical applications and complete data centers. However, in the cloud era, and given the influx of SaaS applications, application backup in the enterprise has become spotty, which is why ransomware attacks have become so pervasive.
The Hot Vendors in Enterprise Backup and Recovery report identifies three Hot Vendors who are going above and beyond basic backup and recovery to address the increase of threats in cyber warfare and ransomware.
Aragon clients can learn more about these providers by reading the Special Report: Aragon Research Hot Vendors for 2019 Part V.
About Aragon Research
Aragon Research delivers high-impact visual research, consulting, and advisory services to provide enterprises the insight they need to make better technology and strategy decisions. Aragon Research serves business and IT leaders and has a proven team of veteran analysts. For more information, visit https://www.aragonresearch.com.