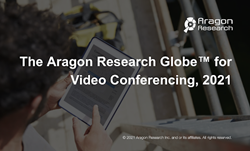 Video conferencing is now the single most important part of a communications and collaboration technology platform.
PALO ALTO, Calif. (PRWEB) May 05, 2021
Today, Aragon Research published its newest report, 'The Aragon Research Globe for Video Conferencing, 2021'. The Aragon Research Globe is a market evaluation tool that graphically represents analysis of a specific market and its component vendors. Positioning in the Aragon Research Globe will reflect how complete a provider's future strategy is relative to their performance in fulfilling that strategy in the market.
In 2020, the pandemic pushed video conferencing into the spotlight as the preferred communications interface for people to connect and meet. Over the last year, video conferencing providers enhanced their offerings and new providers emerged. Today, the video conferencing market has stronger product offerings to select from than ever before.
"Video conferencing is now the single most important part of a communications and collaboration technology platform," says Aragon CEO and Lead Analyst, Jim Lundy. "This means that the vendors in this market are feeling significant pressure to enhance and improve their product offerings to keep up with demand and stand out from competitors."
Due to the increased pressure to become the strongest video conferencing provider, video conferencing is now more reliable and generally a seamless, convenient experience. In fact, Aragon believes that video meetings are now 50% more effective as opposed to traditional audio conferences. Because of this, video conferencing is here to stay.
On top of growing rapidly, the video conferencing market is also seeing another key shift–the increased need for intelligent video platforms. There is no doubt that there is a need for more capabilities than the traditional, standard video conferencing platforms offer. Intelligent video platforms solve this need by offering new capabilities such as:

Automated Note Taking
Real-time Translation
Action Items
Speaker Tracking and Speaker identity
Background Noise Suppression
With increased capabilities, video conferencing will see new use cases. For example, Telehealth, which leverages video and conferencing for doctor to patient virtual visits, is expected to grow over 20% a year.
The providers evaluated in this Globe report include: Adobe, Avaya, BlueJeans, Cisco, Fuze, Google, Dialpad, Lifesize, LogMeIn, MediaPlatform, Microsoft, Panopto, Pexip, PGi, Poly, Qumu, RingCentral, TrueConf, uStudio, Vbrick, and Zoom.
Enterprises should use this report to determine who the video conferencing providers are and how they will evolve. Aragon clients can access the Aragon Research Globe for Video Conferencing, 2021, in the AIN client community or on aragonresearch.com.
About Aragon Research
Aragon Research delivers high-impact visual research, consulting, and advisory services to provide enterprises the insight they need to make better technology and strategy decisions. Aragon Research serves business and IT leaders and has a proven team of veteran analysts. For more information, visit https://www.aragonresearch.com/.