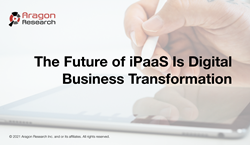 What makes the tPaaS market distinct is that the business model and architecture capabilities are at the core and are often the starting point for these services–not just an afterthought
PALO ALTO, Calif. (PRWEB) July 07, 2021
The old ways of PaaS and iPaaS are no longer enough for organizations to enable and fuel business transformation. Organizations need a new type of platform service that is holistic and integrated, and starts with business transformation and automation first and foremost. Because of this growing need, and the introduction of new technology and service providers in the market, Aragon has identified a new market that is focused specifically on providing the platform and business architecture services needed to enable business transformation. It's calling this market transformation platform as a service (tPaaS).
tPaaS offerings provide all of the core capabilities required to compete in the iPaaS market. The difference is that in addition, tPaaS offers business strategy design, business architecture, and business process capabilities that directly leverage its iPaaS capabilities, such as low-code development, business process modeling, RPA, AI, etc. While iPaaS is rooted in a traditional IT-centric integration perspective, tPaaS is specifically focused on developing a new, innovative business first and foremost.
"What makes the tPaaS market distinct is that the business model and architecture capabilities are at the core and are often the starting point for these services–not just an afterthought," says Aragon VP Research and Fellow, Betsy Burton. "tPaaS is designed to specifically support both business users and technology users."
tPaaS providers may provide public, private, and hybrid cloud services. In addition, Aragon expects that leading tPaaS providers will support both business strategy and model architecture consulting services, in addition to any solution design and implementation services.
You can learn more in Aragon's latest report, 'The Future of iPaaS Is Digital Business Transformation'. Enterprises should examine the capability definitions and the market trends in this research note to understand how tPaaS can help them pursue business transformation and reach customers in their specific context.
About Aragon Research
Aragon Research delivers high-impact visual research, consulting, and advisory services to provide enterprises the insight they need to make better technology and strategy decisions. Aragon Research serves business and IT leaders and has a proven team of veteran analysts. For more information, visit https://www.aragonresearch.com/.