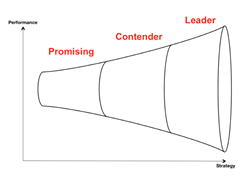 We're moving into the era of Content Automation.
PALO ALTO, Calif. (PRWEB) August 02, 2018
Aragon Research has published its first ever Tech Spectrum for Workflow and Content Automation (WCA), identifying thirteen major providers in this emerging market.
WCA is a new category for automating document processes and transactions. In the report, Aragon says WCA platforms can automate workflows and produce intelligent documents with valuable process analytics that make businesses more productive and intelligent.
Part of the challenge in going fully digital is to prioritize which business processes to automate first. Because documents and document processes can have the highest impact on speeding up the time to outcomes—or in many cases, time to revenue—they should be at the top of this list. As such, Aragon believes WCA is a critical way to automate the enterprise.
"We're moving into the era of Content Automation, and enterprises need to focus on automating their critical documents to better support their customer journeys," said Jim Lundy, CEO of Aragon Research. "Enterprises can get to faster business outcomes and increased knowledge worker productivity by deploying a WCA platform."
The Aragon Research Tech Spectrum looks at a focused set of criteria that helps enterprise planners understand and navigate the market of technology provider options. The providers evaluated in this Tech Spectrum include: Adobe, Conga, DocuSign, HelloSign, Intelledox, Kofax, Nintex, OpenText, PandaDoc, Quark, Smart Communications, ThinkSmart, and Upland Qvidian. Aragon clients can access The Aragon Research Tech Spectrum for Workflow and Content Automation, 2018 in the AIN client community or on aragonresearch.com.
About Aragon Research
Aragon Research delivers high-impact visual research, consulting, and advisory services to provide enterprises the insight they need to make better technology and strategy decisions. Aragon Research serves business and IT leaders and has a proven team of veteran analysts. For more information, visit https://www.aragonresearch.com/.