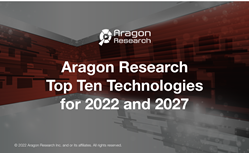 Enterprises must develop a plan to leverage these trends and technologies in order to increase their ability to compete in an increasingly digital business arena
PALO ALTO, Calif. (PRWEB) January 26, 2022
In a recent set of reports, Aragon Research released its top ten technologies organizations should leverage for 2022 and for 2027.
The technologies outlined in this report are largely relevant for shifting to an intelligent enterprise. Technology categories discussed in this report include artificial intelligence, collaboration, digital labor, security, and more.
"Enterprises must develop a plan to leverage these trends and technologies in order to increase their ability to compete in an increasingly digital business arena," says CEO of Aragon Research, Jim Lundy. "These reports are key for enterprises' future-state needs and planning."
The report offers key findings, market implications, and recommendations for each "top technology" outlined. Both end-users and vendors should closely examine these emerging technologies and leverage them to enhance, evolve, and transform their technology-enabled business.
Aragon clients can access Aragon Research Top 10 Technologies for 2022 and Aragon Research Top 10 Technologies for 2027 in the AIN client community or on aragonresearch.com.
About Aragon Research
Aragon Research delivers high-impact visual research, consulting, and advisory services to provide enterprises the insight they need to make better technology and strategy decisions. Aragon Research serves business and IT leaders and has a proven team of veteran analysts. For more information, visit https://www.aragonresearch.com/.