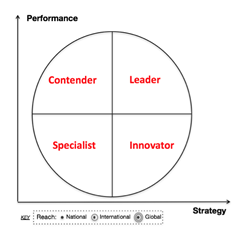 Video meetings have become part of the high-performance digital workplace playbook.
PALO ALTO, Calif. (PRWEB) January 24, 2019
Aragon identifies twenty major providers in its sixth annual Aragon Research Globe for Web and Video Conferencing, published today. The report states that video meetings have become part of the high-performance digital workplace playbook, and are an integral part of an excellent customer experience.
The report also identifies the shift to people-centric collaboration (PCC), which refers to enabling seamless and multi-modality communications and collaboration. The video-enabled PCC experience starts with the need to enable video meetings from anywhere and on any device, and doing so consistently. Providers are expected to support mobile, desktop, and room devices for meetings and allow seamless switching between devices.
Aragon also sees the rise of intelligent video rooms as being a key criteria for web and video conferencing providers as the market continues to consolidate and evolve. Intelligent video rooms leverage artificial intelligence to understand what is going on with the active meeting, and the devices and the users who are involved.
"Organizations can have tens to hundreds to thousands of meetings per day, and they need the right web and video conferencing tools to create the best experience for their customers, employees, and partners," said Jim Lundy, CEO of Aragon Research. "Today's major providers are adding new technologies such as intelligent video rooms to automate meetings, and video analytics to help enterprises find key pieces of knowledge in their videos that are tied to a business need."
The providers evaluated in this Globe report include: Adobe, Avaya, BlueJeans, Cisco, Fuze, Google, Highfive, Lifesize, LogMeIn, MediaPlatform, Microsoft, Panopto, Pexip, PGi, Polycom, Qumu, uStudio, Vbrick, Vidyo, and Zoom.
Enterprises should use this Globe report to help them begin evaluating web and video conferencing providers and to understand where the market is headed. Aragon clients can access The Aragon Research Globe for Web and Video Conferencing, 2019 in the AIN client community or on aragonresearch.com.
About Aragon Research
Aragon Research delivers high-impact visual research, consulting, and advisory services to provide enterprises the insight they need to make better technology and strategy decisions. Aragon Research serves business and IT leaders and has a proven team of veteran analysts. For more information, visit https://www.aragonresearch.com/.