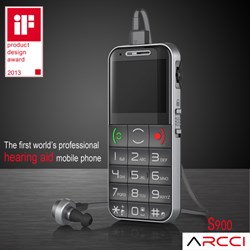 The Arcci S900 is the first professional cell phone geared toward those with visual and hearing disabilities.
Shenzhen, Guangdong (PRWEB) August 09, 2013
Urged by the rapid growth of the elderly population in China, Arcci creates a top-of-the-line cell phone with one idea in mind- allowing everyone the access to a cell phone.
The Arcci S900 is the first professional cell phone geared toward those with visual and hearing disabilities, which has won IF industrial design award and OHIM certification.
Special features include an internal hearing-aid with wider buttons, larger text sizes, and a broader screen.
Simon Zhang, President of Arcci states, "The internal hearing-aid and other functions are even child-friendly. There are no unnecessary features common to the traditional mobile phone. Why? Our focus is the creation of a cell phone primarily for communication."
However, the Arcci S900 is more than just a hearing-aid and cell phone combination.
Arcci also introduces innovative features for emergencies.
"Users can click a simple button that alerts emergency services. Also, the phone contains a compatibility port (MicroUSB) that can be connected to medical accessories."
Many traditional features such as a music player, an internal flashlight, and a FM radio are present.
And at only 96 grams, it is lighter than an iPhone. The durable and sleek design allows on-the-go users to slide the Arcci S900 into their pockets without fear of shattering.
According to the president of Arcci, this mobile phone is the result of years of development using only the finest technology from China and the United States.
"Most Chinese products are notorious for their poor quality. However, the Arcci S900 is different. It is created from a selection of first-rate materials from multiple countries including the United States and designed with a fashionable appearance."
At the price of a little over $190, it is extremely reasonably priced, even compared to Chinese brands.
Arcci TechnologyCo.,Ltd is a subsidiary of world famous industrial design company NewPlan, specializing in mobile phones design, production and sale for the elderly and the disabled. We are the forerunner in this area, most of our designs ever won Reddot, IF, CES and IDEA industrial design awards.