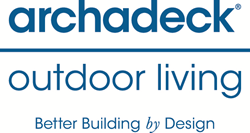 As you can imagine, we've seen every type of decking structure in every state and condition. We developed the BE SAFER acronym as a way to educate consumers and to help them evaluate their own structure. -Mike Reeder, Archadeck VP & Brand Leader
Richmond, VA (PRWEB) May 16, 2016
Archadeck Outdoor Living, a company recognized as North America's largest deck and porch builder, recently announced the availability of a new deck safety tip sheet promoting deck safety tips and the brand's BE SAFER acronym.
Established in 1980, Archadeck has built more than 100,000 outdoor living projects across the country with deck design and building being one of the company's most popular project categories. "As you can imagine, we've seen every type of decking structure in every state and condition," said Mike Reeder, Vice President and Brand Leader of Archadeck Outdoor Living. "We developed the BE SAFER acronym as a way to educate consumers on deck safety and to help them evaluate their own structure."
The BE SAFER campaign promotes the importance of conducting a yearly deck safety inspection. The acronym ties into each area that should be examined and evaluated as part of a thorough deck safety inspection. The 7-step BE SAFER deck safety evaluation includes inspecting:

Boards
Every Connection
Structure
Attachment
Foundation and Footings
Exits
Rails
"The deck safety tip sheet explains each of the 7 steps and is free to download on our national website making it accessible to anyone who might find it helpful or have questions," stated Jody Wetherill, Brand Marketing Manager for Archadeck.
Archadeck Outdoor Living prides itself on providing quality and craftsmanship with decks built 40-60% safer than local building codes require. In addition to the deck safety tip sheet, a video walking through each safety point check can be found on the company's website at http://www.archadeck.com.
Archadeck Outdoor Living is North America's largest builder of custom-designed and built decks, screened porches, sunrooms, outdoor living rooms, outdoor kitchens and outdoor living structures. Qualified Remodeler and Remodeler Magazine consistently rank Archadeck at the top of their respective annual "Best" lists. Archadeck projects have graced the covers of Gardens, Decks and Patios and Decks & Backyard Projects. The company has been featured in articles in This Old House, Smart Money, Coastal Living, Better Homes & Gardens and Gardening & Deck Design, as well as on HGTV. Additional information can be viewed at http://www.archadeck.com.