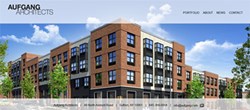 "Our new portfolio management tool allows architects and designers to easily showcase and manage their work portfolios in a captivating and impactful way," explained Stellaractive Creative Director, Rupert Edson
Portland, Oregon (PRWEB) December 10, 2013
Leading Portland web design firm Stellaractive today announced it is offering customized website design services for architects and interior designers. With the new Stellaractive portfolio management tool, designers can easily display and update portfolios online to reflect their most recent and impressive work.
"Stellaractive specializes in building custom websites designed to match each of our clients' unique branding. Our new portfolio management tool allows architects and designers to easily showcase and manage their work portfolios in a captivating and impactful way," said Stellaractive creative director, Rupert Edson. "For professionals whose business relies on being able to show potential clients, rather than tell, this design service and portfolio management ability is opportune and highly effective."
Stellaractive recently completed work on the website of Aufgang Architects, a New York-based architecture firm specializing in large scale development projects such as hotels, condominiums, community housing, and senior housing. Aufgang sought a new website design that could featured their work in a prominent way.
Stellaractive delivered a dynamic resizing solution that fills the new website window edge-to-edge, offering visitors the largest possible view of the firm's work and a portfolio display solution allowing a shuffling view of varying sized project thumbnails. The easy to use interface allows the client to keep the site current.
To see a stunning example of their work visit http://www.Aufgang.com.
For more information on website design services with Stellaractive or a quote,visit http://www.stellaractive.com, info(at)stellaractive(dot)com, or call 503.384.2413.
Stellaractive is a leading web development agency located in Portland, Oregon. Specializing in content management systems, e commerce, and custom web applications since 2007, Stellaractive has launched hundreds of small and medium size business websites. Dedicated to customer service and quality web development, Stellaractive is known internationally as a world class and trusted web developer. The company is also the creator of the online personal business card, mCard.me and do-it-yourself websites, HomeSpunWebsites.com.