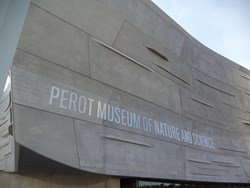 Deadline extended. Attendees must preregister by Friday, Sept. 20, 2013.
Dallas, TX (PRWEB) September 12, 2013
Gate Precast is a co-sponsor of the Architects' Program, a full day of continuing education offered by PCI (Precast/Prestressed Concrete Institute) during its annual convention at the Gaylord Texan Resort in Grapevine, TX. The Sept. 23 event will focus on the aesthetic versatility of precast concrete and address the latest innovations in design opportunities of color, texture, veneers and shape. Deadline Extended: Attendees must preregister by Friday, Sept. 20, 2013. Click here to register.
Jim Lewis, Director of Architectural Systems for Gate Precast, will discuss the aesthetic options of thin brick in the educational series on Clay Product-Faced Precast Systems during the morning session.
Todd Petty, VP, Operations of Gate Precast in Hillsboro, TX, will lead a discussion on the design, production and erection aspects of the Perot Museum of Nature and Science, which was designed by Morpohosis. Petty will highlight the complex and varied geometric shaped precast concrete panels on the exterior and interior of the museum. The program will conclude with a tour of the Perot Museum led by Jennifer A. Workman, AIA of Good Fulton & Farrell Architects, one of the project architects. This tour will provide insight to the challenges and solutions related to this visually stimulating project.
Registration for the educational seminar is free and includes 6.0 HSW AIA/CES credits, course reference materials and a complimentary flash drive with High Performance Precast Concrete Design resources. Lunch will be provided as well as transportation to and from the Gaylord Texan Resort to the Perot Museum. There will be no fee to tour the Perot Museum.
For more information, click here.
ABOUT GATE:
Gate Precast Company is a subsidiary of Gate Petroleum Company, a privately held diversified corporation headquartered in Jacksonville, FL. Gate Precast has become one of the largest and most diversified precast concrete producers in the United States with eight manufacturing facilities and is known for its design-assist collaboration with design teams. Annually, the company is recognized as a top subcontractor by Engineering News Record Magazine and wins Best-in-Class PCI Design Awards for a wide range of projects.