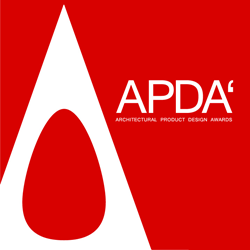 Architectural products and building materials that demonstrate excellent design quality will be highlighted.
Como, Italy (PRWEB) February 05, 2014
The A' International Building Materials and Architectural Products Design Awards (APDA) is one of the most prestigious design prizes in the international building design and development sector. Companies from all product categories of the construction sector are now invited to enter the competition by submitting their best architectural products and building materials before February 28, 2014. Results of the competition will be announced on April 15, 2014 and entries could be made online at http://www.adesignaward.com.
A' Architectural Product Design Awards feature products from some of the most innovative architectural product manufacturers around the world. A' Design Awards are proud to support the awarded companies through special marketing and publicity campaigns and by organization of an exclusive gala-night where product manufacturers are able to meet the world's leading architects and interior designers, as well as press members.
A' International Building Materials and Architectural Products Design Awards champion the recognition of product ingenuity in the built environment. Spanning all products throughout the building and construction sectors, the APDA accolades determine and honor the most innovative architectural products on the market. Entries are judged by an expert jury panel composed of prominent scholars, international media members, and professionals from fields of architecture & design. The jury decision will be final.
The APDA award for architectural products is especially open to entries of building products, construction materials, architectural components, architectural systems, surfaces, decorative materials and any other products used in the building construction sector. Given this definition, flooring materials, paints, coatings, tiles, millwork, doors, windows, stair parts, roofing, decking and fencing products could be entered as well as any other construction equipment or product. There is also a special category for architectural and interior projects, open for designers, architects and real estate developers.
Award winning building materials and architectural products will have their descriptions translated to more than twenty languages and they will further be communicated to tens of thousands of publications in order to truly create international recognition and publicity. Laureates will receive the yearbook publication, the design excellence certificate, invitation to gala-night and exhibition in Italy, press release preparation & distribution, and of course the winners would also receive the special 3D printed metal trophy in recognition of their success.
About the APDA Awards
The A' International Building Materials and Architectural Products Design Awards were especially established to create a significant incentive for manufacturers of building materials and architectural products to come up with superior products that demonstrate increased energy efficiency, eco-sustainability and social responsibility. The APDA accolades aim to create a better future where buildings would be safer, more durable, intelligent and eco-friendly thanks to better construction materials and architectural products. Learn more about the A' Design Award & Competition at http://www.whatisadesignaward.com.