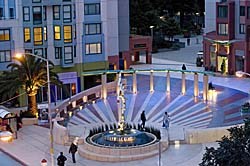 San Francisco, CA (PRWEB) January 06, 2014
The fourth and final quarter of 2013 saw AXIS Architecture & Design celebrate several significant milestones, including the 12th anniversary of the firm's inception, the move to a new location and the hiring of a new senior architect.
AXIS specializes in the design of hospitality and multi-family residential projects and has seen a significant increase in the volume of their work year after year. This year marked the 12th anniversary of AXIS' inception and their commitment to serving the needs of both institutional and entrepreneurial during those 12 years since.
Recently, AXIS moved to a new location at 1000 Brannan St. in San Francisco and hired Byung Ho Kang as their new senior architect.
"We are very excited about the future of AXIS," said AXIS Principal Cory Creath. "With the addition of someone with Byung's talent, we feel we are positioned to expand our practice both geographically and into new arenas, such as the growing health care sector."
Kang brings more than 10 years of professional experience and is licensed in California. He previously held senior positions at HOK, DES and Steinberg Group after earning his master's degree at Georgia Tech. Kang will bolster the existing leadership of founding Principals Creath and Shawn Alexander, and through his exceptional design and technical skill sets in a wide range of project types.
AXIS felt the need to bring in a new senior architect to bolster its capabilities because they have 16 active projects on the boards or in construction. Based upon industry fundamentals, AXIS foresees strong demand in core markets for both renovation of existing assets, as well as new builds in the areas of hospitality and multi-family residential.
Find out more about AXIS by visiting http://www.axisonline.net or calling 415-371-1400.
About the company:
AXIS Architecture + Design is an architecture firm in San Francisco that specializes in renovation and reposition of asset types, including commercial office, retail, multi-family and hospitality. It assists clients looking for architecture design who are typically owners, property managers and end users by providing creative and practical solutions to the challenges they are facing, such as updating assets that are tired and have lost their competitive advantage; reducing liability associated with buildings that are out of compliance with the various code requirements; modernizing architecture and infrastructure to improve operational efficiency; and adding amenities to attract or retain tenants, users or guests.