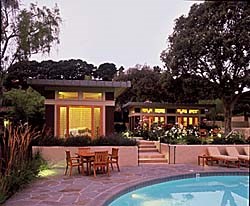 San Francisco, CA (PRWEB) September 11, 2013
AXIS Architecture + Design is pleased to announce the grand opening of Applebee's Fisherman's Wharf. The firm worked Greg Flynn, the Apple American Group Chairman and CEO, to custom design Applebee's flagship location at 2770 Taylor, on the third floor of the Sabella Building.
Fisherman's Wharf is the number one tourist destination in San Francisco, one of the premier tourist cities in the world, and yet, there has been a noticeable lack of new development and investment in the area until the recent announcement of the America's Cup event. This event has led to a flurry of activity along the waterfront, including the new Exploratorium Museum and the America's Cup Theater.
The new Applebee's restaurant can be viewed as part of this recent trend in investment. Applebee's provides visitors with an expanded full service food and beverage offering at an affordable price point, while featuring spectacular views of the Golden Gate Bridge and all the activities taking place on the Bay.
Some of the unique features of this new Applebee's location include a striking red exterior color scheme, bold signage, an outside dining terrace, an oversized bar area and floor to ceiling windows to maximize the view of the bay. There is also a raised dining platform, skylights and multiple private dining rooms. Adding to those design elements, which make this a uniquely San Francisco-centric Applebee's, is the artwork in the restaurant that showcase San Francisco's rich heritage.
When looking for the restaurant, visitors will see that the entrance is marked with a new canopy and blade sign on the Taylor Street side of the Sabella Building.
AXIS worked alongside CCI, the general contractor, to complete the project based on the client's aggressive three month construction schedule. "AXIS was able to obtain all the necessary approvals and execute the project on an extremely aggressive schedule. As an owner and operator, we counted on their guidance to ensure the finished product functions well over time. Their team was responsive to our needs throughout," said Greg Flynn. AXIS was required to obtain approvals from no fewer than six city agencies, including the Port of San Francisco.
For more information AXIS Architecture + Design, please visit their website, http://www.axisonline.net/.
About the company:
AXIS Architecture + Design is an architecture firm in San Francisco that specializes in renovation and reposition of asset types, including commercial office, retail, multi-family and hospitality. It assists clients looking for architecture design who are typically owners, property managers and end users by providing creative and practical solutions to the challenges they are facing, such as updating assets that are tired and have lost their competitive advantage; reducing liability associated with buildings that are out of compliance with the various code requirements; modernizing architecture and infrastructure to improve operational efficiency; and adding amenities to attract or retain tenants, users or guests.