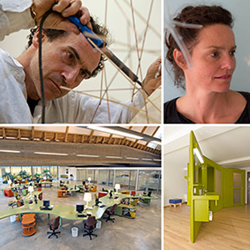 We asked the students to imagine reinventing the Industrial Revolution as sort of a parallel or continuation of the Arts and Crafts Movement, but where the industry itself needs to be protected.
Los Angeles, CA (PRWEB) March 27, 2014
Otis College of Art and Design's 2014 Donghia Designer-in-Residence, Joep van Lieshout, joined students in Los Angeles to lead a master class project for an imagined self-sustaining live/work community of the future in Amsterdam. In collaboration with glass artist and independent curator Caroline Prisse, thirteen Architecture/Landscape/Interiors students participated in this one-week studio to reconfigure the Tetterode Glass Studio, Amsterdam, into a community of the future focused on sustainable resources and energy efficiency, for an imagined tribe of artisans and crafts people.
"We asked the students to imagine reinventing the Industrial Revolution," says Van Lieshout, "as sort of a parallel or continuation of the Arts and Crafts Movement, but where the industry itself needs to be protected. We wanted them to imagine the creative factory of the future, as utopia-house-live-work space all in one, to include accommodations for a tribal community with rituals, education, and sustainable practices."
Dutch artist Joep Van Lieshout lives and works in Rotterdam, the Netherlands, and is the driving force behind Atelier Van Lieshout. Atelier Van Lieshout (AVL) produces objects that balance on the boundaries between art, architecture, and design, encompassing sculpture and installations, buildings and furniture, utopias and dystopias. Recurring themes in the work of AVL are power, politics, and autarky, marked by a fascination for life, its creation, and its end in death. With this body of work, both autonomous and commissioned, AVL has attained international recognition.
Over the past 25 years, AVL has exhibited at and/or been acquired by major art institutions and collections worldwide. AVL also produces commissions for and collaborates with architects such as Rem Koolhaas/OMA and MVRDV.
The Master Class at Otis College of Art and Design is made possible through a generous donation from the Angelo Donghia Foundation.
The Angelo Donghia Foundation, Inc., a privately held not-for-profit organization created under the will of the late Angelo Donghia, provides support for two distinct fields: the advancement of education in the field of interior design and initiatives pertaining to the discovery of causes of AIDS and its related diseases, and their methods of treatment.
Past Donghia Designers include Sharon Johnston and Nader Tehrani, Eva Maddox of Perkins + Will, Lewis Tsuramaki Lewis, Shashi Caan, and Xavier Vendrell.
This master class was organized by the Architecture/Landscape/Interiors Department (A/L/I) at Otis College of Art and Design. A/L/I seeks to contribute to the emergence of imaginative contemporary practices through a synthetic curriculum of the spatial design fields: architecture (buildings), landscape (spaces between buildings), and interiors (spaces within buildings).
For more information, call 310.665.6867 or email ArchitectureLandscapeInteriors(at)otis(dot)edu.
ABOUT OTIS COLLEGE OF ART AND DESIGN
Established in 1918, Otis College of Art and Design is a national leader in art and design education. The College's mission is to prepare diverse students of art and design to enrich our world through their creativity, skill, and vision. Alumni and faculty are Fulbright, Guggenheim, and MacArthur grant recipients, Oscar awardees, legendary costume designers, leaders of contemporary art movements, and design stars at Abercrombie & Fitch, Apple, Disney, DreamWorks, Mattel, Nike, and Pixar.
Otis enrolls approximately 1,100 full-time students, and offers Bachelor of Fine Arts degrees in Architecture/Landscape/Interiors, Digital Media (Game and Entertainment Design, Animation, and Motion Design), Fashion Design, Communication Arts (Graphic Design, Illustration, and Advertising Design), Fine Arts (Painting, Photography, and Sculpture/New Genres), Product Design, and Toy Design.  Otis also awards the Master of Fine Arts degree in Fine Arts, Graphic Design, Public Practice, and Writing.
The five-acre main campus is located on L.A.'s Westside near the beach and LAX; Fashion Design is in the heart of the downtown fashion district; and Graduate Studios are on the Creative Corridor in nearby Culver City and in the 18th Street Arts Center in Santa Monica.
2,700 adults and children participate in Continuing Education art and design classes and workshops.