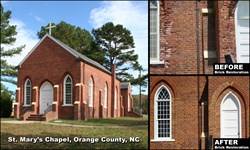 Isley Hawkins Architecture is known for preservation.
Edenton, NC (PRWEB) October 24, 2013
Preservation North Carolina presented a 2013 Carraway Award of Merit to Isley Hawkins Architecture for its role as preservation architect for the restoration of St. Mary's Chapel in Orange County, NC.
The Gertrude S. Carraway Award of Merit, awarded to the Committee of Friends of St. Mary's Chapel, recognizes individuals or organizations that have demonstrated a genuine commitment to historic preservation through extraordinary leadership, research, philanthropy, promotion, and/or significant participation in preservation.
The Committee has worked for the past 37 years to bring the abandoned chapel back to its beautiful beginnings. The chapel is believed to be one of only two chapels of this type and age remaining in North Carolina.
"Original materials were repaired and reused where possible. Our biggest challenge for the exterior restoration was finding replacement brick to match the original handmade brick of the chapel," said Nathan Isley, president of Isley Hawkins Architecture.
Custom brick manufacturers were unable to create bricks with all the properties desired for the chapel. A solution came when Wayne Walker, a descendent of original parishioners, discovered a letter in his family history file noting that a member of the Mary A. (Polly) White family (who donated the full $2,000 necessary to construct the chapel) used leftover bricks from the chapel's on-site kiln in the foundation of their 1860s farmhouse. Just enough whole bricks were salvageable from the rubble remnants of the farmhouse foundation found in the forest to complete the repairs to the exterior walls.
Since the restoration, St. Mary's Chapel has been used for worship on a limited basis, due to its lacking restroom facilities. The Rector of St. Matthew's Church holds an annual homecoming service at the chapel to reflect on local history, continue traditions, and to ensure the chapel continues to serve its purpose as a house of worship.
Isley Hawkins Architecture of Durham has been a steward of preservation over the past four decades. Many of Isley Hawkins' renovation projects, including several listed on the National Register of Historic Places, have earned such honors as Preservation Durham's Pyne Award for Outstanding Preservation (four-time winner), AIA North Carolina's Preservation Award, and Preservation Durham's Neighborhood Conservation Award.