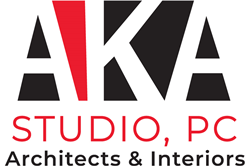 This isn't an end of a business – it's the continued growth of one with new leadership.
ATLANTA (PRWEB) November 07, 2019
Highly respected Metro Atlanta architecture firm Arie Kohn Architects PC has been acquired by Arcline Studio LLC, a Roswell, Georgia-based Architectural firm owned by Robert Zappulla, AIA, NCARB, LEED AP. The resulting newly-formed AKA Studio PC will leverage the time-tested success of Kohn's boutique firm with new opportunities, technology and talent from Arcline Studio.
"Arie and I are from two different generations in the architectural industry, but our philosophies and project specialties are largely the same," said Zappulla. "Arie has laid a path for the new AKA Studio to continue to pursue while exploring where else it may lead us. It's exciting to have a solid foundation from which to thrive, and we owe that to Arie."
Arie Kohn started Arie Kohn Architects in 1984 with a client-centric philosophy that has served him well for more than 30 years. Business grew through an enthusiastic referral network of clients who valued Kohn's agile and attentive approach to projects and a focus on relationships. His core business centered on designing more than 2,500 quick service restaurants (QSRs) including Burger King, Wendy's and Arby's; however, he also designed thousands of custom restaurants, high-end residential, retail and medical projects as well. Additionally, Kohn engaged in hyperlocal specialty projects such as numerous restaurants he designed in Roswell's Canton Street dining district along with pro bono work that includes the newly opened Johns Creek Chabad.
Zappulla started Arcline Studio in 2009, and has nearly 25 years of architecture experience. He is currently licensed in 11 states and will soon be licensed in more than 20. He is also a member of the American Institute of Architects (AIA) and is National Council of Architectural Registration Boards (NCARB) certified. In October 2018, Zappulla joined Arie Kohn Architects with the goal of creating an enduring collaboration with founder Arie Kohn and merging their parallel paths and firms. His architecture career includes many project types ranging from mixed-use retail, Class A offices, prototypical work for large scale retailers, local and national restaurant brands and high-end residential.
"Long-time clients can expect the same quality of service they've always received, as well as the peace of mind that AKA Studio will maintain institutional knowledge from their previous projects," said Kohn. "This isn't an end of a business – it's the continued growth of one with new leadership."
"Our ability to customize services to meet clients' needs and our commitment to working with them from initial design through full execution are what makes AKA Studio truly unique," says Zappulla. "While technology is certainly a cornerstone of our profession, we will always be the firm that a client can call and talk to, receiving that personal touch they've come to expect. We are here to equip our clients with whatever it takes to be successful."
About AKA Studio
AKA Studio PC, located in Roswell, Georgia, is a full-service architecture firm with strong experience in restaurant design, mixed-use shopping centers, office design, medical buildings and residential design. AKA Studio was launched in November 2019 after owner Robert Zappulla acquired Arie Kohn Architects PC from founder Arie Kohn. In addition to its core architectural design services, AKA Studio is expanding its capabilities to include interior design, project permitting and other related design services. For more information about AKA Studio, please visit http://www.akastudiopc.com/ or call 770-642-3755.