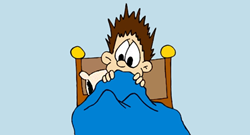 San Diego, CA (PRWEB) March 01, 2014
Chemicals in consumer products have become a hot topic over the past few years as more people demand transparency and seek information on potential dangers lurking in household items. Mattresses are one product under particular scrutiny, as people spend a significant amount of time sleeping. Among the various bed types, memory foam mattresses are often singled out as potential sources of toxins in articles online, which can raise concerns for some potential buyers.
Sleep Junkie, a blog on beds and sleep, set out to gather as much information as possible on memory foam mattress ingredients and potential risks in their latest article published February 28th, "Are Memory Foam Mattresses Safe?" In the article, the blog looks at chemicals that go into the average bed and their risks, as well as the related issue of volatile organic compounds. The article also compares odor complaints of different brands from reviews, looks at current research on polyurethane safety, and offers tips on choosing a safe mattress.
Being one of the newer mattress types relative to innersprings and other options, many consumers are unaware of what memory foam is made of or how it is made. As Sleep Junkie explains, the lack of information on memory foam ingredients is partly due to manufacturers' desires to protect their formulas and trade secrets. However, the basic components of memory foam are public knowledge, which include polyols, diisocyanates, and blowing agents, as detailed and explained in the article.
In addition to the core ingredients, Sleep Junkie details a list of potential chemicals and additives that manufacturers might use, as well as methods of achieving anti-flammability standards along with their potential risks. An in-depth explanation of volatile organic compounds and how they relate to off-gassing is also featured. Nine popular brands of memory foam are then compared on overall owner satisfaction and rates of reviewers complaining of strong odors to offer consumers insight.
The article goes on to highlight opinions from the Environmental Protection Agency and American Chemistry Council among other industry and research sources, which all conclude that chemicals in finished polyurethane foams as found in memory foam mattresses are inert and non-toxic. Seven tips for choosing the healthiest memory foam mattress are also included, as are ways to minimize odors after purchase.
For anyone considering a memory foam mattress or any bed with foam, Sleep Junkie's information on manufacturing and risks is worthwhile information to have before buying, and is presented in an unbiased manner designed to inform and educate. The blog also offers several other articles on sleep and mattress topics for interested readers.
SleepJunkie.org is a blog dedicated to all things sleep, from mattresses, bedding, to research and more. With a focus on making mattress research easier, the website offers independent assessments and reviews of the latest brands and technologies. Readers also enjoy timely updates on mattress-related news and expert help in selecting the best mattress to fit their needs and lifestyle.