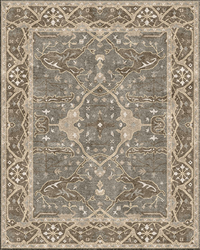 Minneapolis, Minnesota (PRWEB) December 10, 2014
Cyrus Artisan Rugs is one of the largest custom designers and manufacturers of luxurious handmade rugs in the Midwest. Based out of Minneapolis, this high-end rug powerhouse continues to make impressions across the country with their impressive online inventory. Along with their impressive 13,500 square-foot showroom and massive online store, Cyrus Artisan Rugs continues to add to their substantial inventory both online and in-store. This month, Cyrus announces reduced prices on the hand knotted Decant Collection and exclusive holiday deals.
With Christmas and New Year's just around the corner, Cyrus is offering 20% off the retail price for all rugs in the Decant Collection. The Decant Collection was a successful existing collection that is being re-featured throughout the month of December. All of the pieces in the Decant Collection showcase expert artisan craftsmanship, and are hand knotted in Nepal using premium mountain wool that is celebrated for its beauty, softness, and resilience.
This month is the last chance to head over to the website and browse the collection for lower prices. Some of the standout designs in the collection include The contemporary "Epiphany" rug features an abstract motif and phoenix weave, with modern palettes. The Nautical rug design is elegant and chic for the season to create the look of an Aspen lodge The "Jardin" rug has a retro floral motif while the "Segments" wool rug is abstract and chic, perfect for a polished contemporary setting.
Cyrus Artisan Rugs
5115 American Blvd.
W. Bloomington, MN 55437
Phone: (952) 922-6000
-Contributed by TRIXMEDIA : Creating Possibilities
Branding Firm based in Beverly Hills, California.