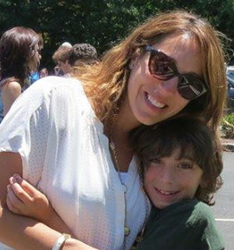 Taking part in Law Day observances offers me a way to share my knowledge and give back to my community.
Hackensack, NJ (PRWEB) April 28, 2016
New Jersey's Aretsky Law Group attorney, Natalie Esposito Capano, will share her legal expertise with elementary and middle school students at Brookside School in Allendale, NJ, as well as with Justice Studies college students at Montclair State University. The events will take place in observance of this year's 2016 Law Day on May 2, 2016 at each of the schools and will focus on this year's theme celebrating the 50th year of Miranda Rights.
Although not a federal holiday, May 1 has been proclaimed Law Day every year since 1958—from President Eisenhower to President Obama. Each year the American Bar Association chooses a different Law Day theme. This year's theme is Miranda: More than Words. It was chosen because June 2016 marks the 50th anniversary of Miranda v. Arizona, the case in which the Miranda warning is based.
Brookside School in Allendale, New Jersey will combine several sections of its 4th grade elementary school students as well as its 7th grade middle school Social Studies class for Ms. Capano's discussion and presentation. The focus of her presentation will be Miranda—how it relates to criminal justice and individual rights as well as the history and evolution of the law and why a commemoration and celebration of Law Day is important to our society as a whole. Coordination for a local police officer to accompany her to the grade school is in the works for a show-and-tell discussion of Miranda and lawful arrests from the point of view of law enforcement.
Ms. Capano feels it is important to show the students how the law is useful, why there are legal rules to understand and follow, and how society all shares in the US system of justice. She stated, "We have a unique high-level system with legal rules that have evolved over time. It's a system that affects and trickles down to everyone. It offers us rights, freedoms and security like no other nation."
When asked why she volunteered to spend her time speaking to the youngsters, Capano responded, "Nothing is more important than our kids and their education. I am honored to speak to the students and provide information which will not only help my own children but also bring value to all children in our district. Taking part in Law Day observances offers me a way to share my knowledge and give back to my community."
Ms. Capano will also address university students in the Justice Studies program at Montclair State University in Montclair, New Jersey. Here, the subject of Ms. Capano's presentation will also be Miranda and its effects on law enforcement. However, the focus will be on case law and the U.S. Constitution.
When Eric Aretsky, founding partner of Aretsky Law Group, P.C., was asked to comment on these Law Day observances, he said that he is excited to have a team member at the firm participating in the local schools. He went on to explain, "We are proud to offer Natalie's time away from work to offer a way to freely share her legal knowledge with the students. Law Day is a time for us to think about how important the rule of law and respect for the law are in a democratic society. This year's theme, Miranda, is especially relevant. It has been invaluable in making people aware of the rights given to them in the constitution."
About the Speaker: Natalie Esposito Capano

Ms. Capano has been a New Jersey School Board member for 4 years, currently with the Allendale Board of Education.
She has been an adjunct teacher in the Justice Studies Department at Montclair State University for more than 5 years. This year her class focus is on Family Law, her specialty as one of the attorneys for Aretsky Law Group in New Jersey.
In October, Ms. Capano was awarded the 2015 Excellence in Achievement Award from the Peter W. Rodino, Jr. Society at Seton Hall University School of Law in New Jersey.