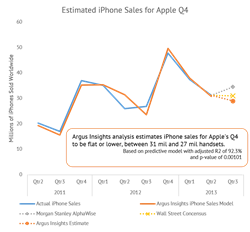 Heavy demand for the iPhone 5S in Asia was not enough to offset weak demand in the US and Europe.
Los Gatos, CA (PRWEB) October 24, 2013
Apple iPhone sales are anticipated to be lower than analyst expectations, almost 3 million units less than last quarter according to Argus Insights, a consumer behavior analytics company. Analyzing a mix of consumer generated social media from around the world, Argus Insights anticipates Apple Q4 iPhone sales will be between 27 to 31 million handsets, almost 10% less than the Q3 sales volume of 31.2 million handsets. This differs substantially from published estimates by other firms, such as Morgan Stanley, that estimate Apple iPhone sales to be between 31 mil and 34.5 mil units.
Sales of iPhones during launch quarters have been historically driven by heightened demand for both the latest iPhone and its discounted predecessor. Sales during the launch of the iPhone 5S and the iPhone 5C were expected to follow this traditional pattern. However, although demand for the iPhone 5S has been robust in Asia, and with early adopters in the US and Europe has been slow to catch on with the mainstream market. The iPhone 5C has been a global disappointment, failing to delight consumers in every market for a variety of reasons including battery life, call quality and the stability of iOS7 according to Argus Insights. The expected boost in the retired iPhone 5 also did not manifest in consumer demand. Although July 4th promotions in the US spurred sales for Apple, demand decreased soon afterwards and never recovered, even after the release of the new iPhones.
The weak launch of new products, coupled with a low demand for old iPhones now suggests that Q4 will be a rough one for Apple. Compared to the holiday season of 2012, the next quarter, there will be weaker sales in 2013. Outside of Chinese demand for the iPhone 5S, post-launch consumer response for iPhones overall has dropped below first half 2013 levels. As iPhone demand continues to slow, there will be wide impacts on suppliers and retailers tightly coupled to the iPhone ecosystem.
Argus Insights metrics are based on assessing what products consumers enjoy rather than focusing on what was shipped, purchased or searched for in search engines. These metrics of consumer demand have proven more accurate than traditional forecast metrics, beating 2013 Wall Street estimates of iPhone and Galaxy handsets. Leveraging data from North America, Europe and China, Argus Insights produces a weekly update to global smartphone demand that is available for purchase by firms interested in getting ahead of consumer demand.