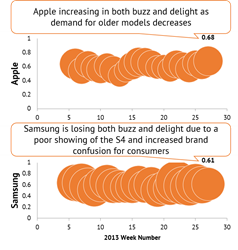 We predicted iPhone sales for Q2 using just social analytics.
Los Gatos, CA (PRWEB) July 29, 2013
Argus Insights, a social intelligence firm, successfully predicted that iPhone shipments for Q2 would beat Wall Street analysts' consensus of 26.2 million. Leveraging a set of proprietary metrics of Consumer Demand derived entirely from social media, Argus Insights correctly anticipated Apple would announce iPhone sales north of 30 million units during their fiscal Q3 earnings call. With iPhone shipments coming in at 31.2 million, this marks a major milestone in connecting social analytics to corporate performance.
"We have correctly anticipated corporate earning surprises in the past, based on observed shifts in consumer demand for smartphones and tablets. This most recent forecast of Apple's Q2 iPhone shipments marks our most accurate demand estimation to date," said John Feland, CEO of Argus Insights.
Further analysis suggests several reasons for the increased demand for the iPhone during Q2. The hype around Samsung's Galaxy S4 turned quickly to disappointment, driving consumers on the fence into the waiting arms of the iPhone. In April 2013, T-Mobile became the latest US carrier to offer the iPhone. Argus Insights metrics showed the iPhone 5 and iPhone 4 drove T-Mobile sales more than the iPhone 4S. Later in the quarter, novel trade-in promotions by retailers pushed many consumers to purchase the iPhone 5, causing a social media frenzy as consumers shared their good fortune.
"The real-time nature of social media makes it an ideal method to predict market share as the quarter closes," said Feland. "Using the predictive power of Consumer Demand metrics, we are proving that the on-demand nature of social media is just as accurate as traditional analyst methods in predicting market demand across multiple industries, including Smartphones, Tablets, Televisions, and Automobiles."
Argus Insights is also seeing consumer demand for Samsung handsets start to slide in the beginning of Q3, as retailers continue to work through excess Galaxy S4 inventory and consumers shift their purchase intent to other handsets.
About Argus Insights
Argus Insights is a social intelligence firm that delivers actionable consumer insights to businesses based on understanding shifts in consumer demand and purchasing behavior by using social media. Argus Insights leverages proven predictive metrics of consumer demand to help businesses strengthen their connection to consumers, position effectively against the competition, and accelerate adoption and revenue.
©2013 Argus Insights, Inc. Argus Insights is a trademark of Argus Insights, Inc. in the United States and/or other countries. Other brand and product names are trademarks or registered trademarks of their respective holders. Information is subject to change without notice. All rights reserved.