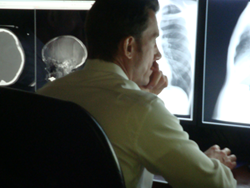 "Teleradiology is a very competitive market," says Wright. "We continue to look for opportunities that support Radiology groups and each client's unique needs."
Columbia, Missouri (PRWEB) November 07, 2016
Today (Nov. 8th), the 121st anniversary of the discovery of the X-Ray, Argus Radiology, a Joint-Commission accredited TeleRadiology company, announced immediate plans to offer their state-of-the-art teleradiology service to radiology group practices and hospitals within Arkansas, a result of licensing their team of Radiologists in the state.
According to Jamey Wright, MD, Argus Radiology's Founder and President, "Over the past couple years we have received requests from a number of radiology groups and small rural hospitals located in Arkansas. Making the decision to license all our radiologists in Arkansas seemed to be a natural progression."
The teleradiology industry, often referred to as the 'Grandfather of Telemedicine,' has reached a stage of maturity where many companies are experiencing slower growth due to previous implementation and saturation. Argus Radiology's favorable growth is partially due to their unique business model which they believe is more familiar to referring physicians and more patient focused.
"Radiologist ownership and involvement contributes to the consistency of our Radiologist staff, which is the foundation to the benefits we offer," says Todd Moritz, Argus Radiology's Director of New Business.
"It is that consistency of staff, lowest turnover of any TeleRadiology company I'm familiar, that provides us confidence in being able to limit the number of radiologists, usually 5-9, we assign to each facility and still maintain redundancies," according to Moritz.
"Whether the facility is a large-hospital with Level 1 trauma or remote rural hospital, a consistency in the reporting Radiologist takes place that translates into an increase in familiarity between their staff and our radiologists. At Argus, we feel this familiarity translates into better communication between staffs, the referring physicians are more comfortable, and hopefully the result is an improvement in patient care, our ultimate goal."
The company strives to personalize other aspects of their service to the unique needs of their clients (i.e., from the manner in which Argus connects to the hospitals to the manner in which Radiology interpretations are delivered).
Since 2013, Argus Radiology has averaged turnaround times of 14.9 minutes and maintained an accuracy rate of 99.87%.
Dr. Michael Khoury, Diagnostic Radiologist, has been with Argus the past six years. He maintains that working for Argus is less corporate and has a more human component. "Dr. Wright (Argus Radiology's President and Medical Director) understands what's expected of radiologists. He does a good job of taking care of us (radiologists). In turn, this allows us to remain focused on taking care of our clients and patients," says Dr. Khoury.
Argus radiologists are directly accessible to their clients in order to provide clear unfiltered communication, timely information, and be a dependable resource for the ordering physician.
"Teleradiology is a very competitive market," says Wright. "We continue to look for opportunities that support Radiology groups and each client's unique needs."