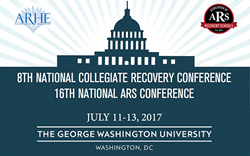 "Over 170 colleges and universities have recognized the need to provide support for students in recovery from addiction."
Washington, DC (PRWEB) February 06, 2017
The Association of Recovery in Higher Education (ARHE) is pleased to announce its annual conference will take place at the George Washington University, July 11-13, 2017. The three-day conference will be held in conjunction with the 16th National Association of Recovery Schools (ARS) Conference. Both conferences are made possible by the generous contributions of Transforming Youth Recovery and many other sponsors.
The conference is expected to draw over 600 attendees to our nation's capital, representing upwards of 100 different schools across the country. Students, staff, treatment professionals, families, allies, advocates, and policy makers will be in attendance. The conference tracks for this year include Research, Students, Families, Treatment, Diversity, Collegiate Recovery, and Recovery High Schools.
The Call for Proposals closed on February 1st, 2017. Sponsorship opportunities are opening to the public now and conference registration is expected to open up in March.
The conference committee plans on capitalizing off the prime event location for a number of exciting activities throughout the duration of the conference. The festivities kick off with a pre-conference reception in The George Washington University City View Room overlooking the Washington skyline. On day two of the conference, attendees will be able to attend a combined awards ceremony in historic Lisner Auditorium. In the evenings or after the conference wraps up Thursday afternoon, attendees can walk just a few blocks to see the monuments, museums, and The White House.
The collaboration with the Association of Recovery Schools is an exciting milestone for the intersection of education and addiction recovery. ARS is at the forefront of the recovery high school movement. The first recovery high school ever established was located in Silver Spring, MD (just outside of Washington). Conference attendees for either ARHE or ARS will have access to all parts of either conference.
"I'm thrilled that the Association of Recovery in Higher Education and the Association of Recovery Schools are joining forces this year to host a fabulous conference in Washington!" Amy Boyd Austin, current ARHE President, continued, "it's truly an exciting time in collegiate recovery. Over 170 colleges and universities have recognized the need to provide support for students in recovery from addiction and we hope to see all of them coming together to share how they're finding success on their campuses and providing opportunities for their students. I am confident this will be our best conference to date and look forward to seeing collegiate recovery become a standard in every college and university across the nation."
The 2016 National ARS Conference was held in Austin, TX while the 2016 National Collegiate Recovery Conference was held in Atlanta, GA. More than 400 attendees were present at the conference in Atlanta, which featured opening remarks by Georgia Governor Nathan Deal. Both associations are excited for this historic event to be held later this summer.
To learn more about this year's event, please visit the ARHE conference website.