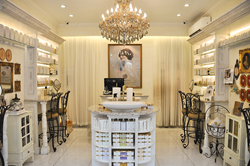 "Skincare for me is beauty from the inside and it goes together with beauty from the outside, that's why I opened Arianna Skincare. With our new flagship store in SoHo, NYC, we spread the word like never before!" - Miri Torres, Founder
New York, NY (PRWEB) July 06, 2016
Arianna Skincare, an innovative brand of Dead Sea mineral and all-natural beauty products, announced the grand opening of its sixth retail store in the heart of SoHo, NYC. Located at 193 Spring Street, the new, largest store yet, boasts a luxurious, fresh space where clean, calming tones and refreshing scents lend center stage to the high end skincare line. The products are all self proclaimed, including luxury anti-aging masks, creams and serums, face care cleansers, lotions and more. The brand also offers bath-time delights such as mineral salts and "dessert" shaped bath bombs which are extremely eye catchy and are the highlight for passersby. With a facade of a bakery and cupcake shaped bath-bombs on display, everyone stops to try and take a bite. With the opening of its new store, Arianna also announced the relocation of its headquarters from Boston to the Big Apple, hoping to only grow and prosper.
CEO Miri Torres launched the brand in 2006, creating a skincare line with minerals used in her own personal restoration following chemotherapy. "I am, of course, an advocate of Dead Sea minerals, but more importantly, a woman who has personally benefited from their use," said Torres. "After being diagnosed with Hodgkin's Lymphoma stage 4B in high school, natural, Dead Sea treatments were a saving grace for the health and appearance of my skin. It's my dream to keep expand my company and encourage my customers to improve their own health and beauty - inside and out." Further she adds "I am proud to be able to offer personal skincare consultations in all of Arianna's locations by handpicked skincare specialists who listen and carefully pick the right products for our customers. It's both a professional yet enjoyable experience."
After four successful establishments in Newport RI, Martha's Vineyard, Mass. and Boston, Mass., Torres was proud to bring these luxury beauty products into the Empire City and launched her first store in the West Village last year. Now, she's ready for SoHo.
Arianna Skincare currently carries an array of products, including:
The Elite Collection
The Elite Collection, true to its name, is Arianna Skincare's superior line of products. This face care line is all-natural and formulated from the rejuvenating minerals of the Dead Sea. The products produce both instant results along with long term results. The line concentrates in preventing and repairing aging signs on the skin. The line includes top products such as the Instant Repair Collagen Eye Cream and the famous Antioxidant Mud Mask.
Price: $79.99 to $595 MSRP
The Spa Collection
All-natural body care items ranging from Mineral Foot Treatment to Exfoliating Shower Milk, all designed to leave skin slightly scented and silky soft.
Price: $59.99 to $89.99 MSRP
Arianna Men
The newest addition to Arianna's brand is a line customized to meet a man's daily needs of all skin types. Combined with Dead Sea minerals and essential oils, the line leaves the skin velvety soft, hydrated and refreshed. Products including an After Shave Recovery Balm and Nutritive Shampoo Therapy can bought separately or inside of a fancy spa bag.
Price: $48 to $340 MSRP
Arianna Indulgence
Arianna also carries top quality dessert inspired bath products made in the USA, including soap "lollipops," bath bomb "cupcakes," and more.
Price: $9.99 to $34.99 MSRP
The Arianna Elite and Spa collections are manufactured by Dead Sea T.D.O.T Cosmetic Laboratories and originate from the Dead Sea in Israel. Unlike many other brands that claim to use Dead Sea minerals, Arianna's full line is all natural and paraben free, not tested on animals, brought together by the highest skincare technology today.
To learn more about Arianna Skincare visit http://www.arianna-skincare.com or join the conversation on Arianna Skincare's Facebook Page and Instagram @AriannaSkincare or on Twitter @AriannaSkincare.
Arianna Skincare NYC locations are open seven days a week from 10 am until 10 pm. For more information, visit http://www.arianna-skincare.com, or call our toll free number 888-330-1423