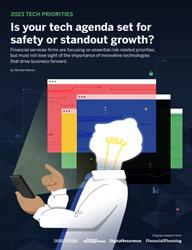 "Over the next two years, maintaining regulatory compliance and enhancing cybersecurity are top priorities. This is likely an attempt by organizations to take stock of digital changes already made and to fix any infrastructure issues to ensure the organization is sound from a risk perspective."
NEW YORK (PRWEB) February 27, 2023
A new research report from Arizent, the parent company of American Banker, National Mortgage News, Financial Planning and Digital Insurance, explores how the financial services industry is prioritizing near-term technological investments. Among the key findings, the surveys reveal that while financial institutions' commitment to tech investments is still strong, priorities are being reshuffled in the current economic climate with compliance and cybersecurity at the top of the list.
Across the financial services industries that were surveyed, 57% of respondents are increasing their tech spending this year compared to 2022, while 22% are holding their budgets steady. This commitment extends to resourcing IT initiatives, with 83% reporting that their firms are either hiring new IT staff or maintaining their existing workforce.
"Over the next two years, maintaining regulatory compliance and enhancing cybersecurity are top priorities," Janet King, Vice President of Arizent Research, says. "This is likely an attempt by organizations to take stock of digital changes they've already made and to fix any infrastructure issues to ensure the organization is sound from a risk perspective."
There are some trade-offs that come with the reshuffling of priorities, however. The research shows that many organizations are failing to effectively align technology road maps with critical activities like fostering CX innovation, expanding data-driven decision-making, improving product functionality or speed to market, and reducing operating expenditures.
"Concurrently, this research reveals that firms may be missing opportunities since they are not implementing strategies with high-rated transformative technologies," King adds. "Mobile apps are seen as having the most potential to drive change, yet appear low on most active agendas with high rates of being paused or deprioritized."
The data also signals good opportunities for fintech partnerships. The majority of respondents believe that technology vendors are moving financial services forward and bringing promising experimental activity or evidence of new thinking to the market. In keeping with this positive sentiment, most firms surveyed expect to tap into, or at least consider tapping into, the fintech (and insurtech) community as a resource for ideas, technology and bandwidth to achieve business objectives.
The full research report can be downloaded here:
American Banker: https://www.americanbanker.com/research-report/is-your-tech-agenda-set-for-safety-or-standout-growth
National Mortgage News: https://www.nationalmortgagenews.com/research-report/is-your-tech-agenda-set-for-safety-or-standout-growth
Financial Planning: https://www.financial-planning.com/research-report/is-your-tech-agenda-set-for-safety-or-standout-growth
Digital Insurance: https://www.dig-in.com/research-report/is-your-tech-agenda-set-for-safety-or-standout-growth
Research background/Methodology
This online research was conducted in December 2022 with 525 qualified respondents across financial services. These peer-based perspectives include 164 banking participants, 191 wealth management participants, 83 from insurance and 87 from mortgage firms. To qualify, participants needed to be knowledgeable or have direct involvement in their organization's tech initiatives.
For more information on this survey or other Arizent research, contact:
Janet King
Vice President, Research
Arizent
janet.king@arizent.com
M 207-807-4806
About Arizent
Arizent is a business information company that advances professional communities by providing insights and analysis and convening industry leaders. The company uses deep industry expertise and a data-driven platform to deliver its services, which include subscriptions, marketing services, live events and access to Leaders, an executive forum. Arizent also connects business communities through leading financial services brands like American Banker, The Bond Buyer, Financial Planning and National Mortgage News, as well as professional services brands like Accounting Today, Employee Benefit News and Digital Insurance.