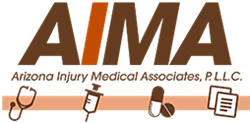 Ganglion impar block has been an amazing procedure providing relief for chronic pelvic and tailbone pain!
Phoenix, Arizona (PRWEB) October 05, 2015
Arizona Injury Medical Associates PLLC is now offering ganglion impar blocks for those suffering from tailbone and pelvic pain. The procedure is performed by a Double Board Certified physician at the practice. Call (480) 347-0941 for more information and scheduling.
Injuries at work or in auto/motorcycle accidents may entail one's tailbone or pelvic area. These can lead to chronic, frustrating pain with few options for relief other than high doses of opiates. This can lead to tolerance, addiction and other complications.
The ganglion impar block has been a revolutionary procedure for treating all types of pelvic pain and coccydynia, which is the medical term for tailbone pain. This can be a result of a fracture that did not heal properly, a soft tissue injury that leads to chronic pain, scar tissue or various forms of cancer.
The procedure is outpatient, and takes less than an hour. It may take several procedures over a period of a few months to obtain the maximum benefit. Dr. Demitri Adarmes, who is Double Board Certified, is the Medical Director at Arizona Injury Medical Associates PLLC. Not only does Dr. Adarmes offer the ganglion impar block procedure for injured workers and those involved in auto accidents, he also offers over twenty five additional pain procedures to help patients obtain relief.
Arizona Injury Medical Associates PLLC treats patients under their workers compensation or personal injury claims. This includes options for both medication management and interventional procedures. Both Arizona and Federal workers compensation patients are treated, with patients being seen from over a dozen states so far.
For scheduling and treatment at Arizona Injury Medical Associates PLLC call (480) 347-0941. For more information on the treatments offered at Arizona Injury Medical Associates PLLC visit the website at http://arizonaima.com