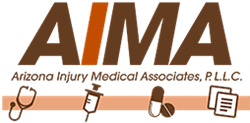 Arizona Injury medical Associates PLLC is now treating patients at a new location in Phoenix.
Phoenix, Arizona (PRWEB) December 29, 2015
Arizona Injury Medical Associates PLLC has moved to a new location in Phoenix and is now scheduling new patients. The practice offers top notch workers compensation and personal injury treatment to injured patients, including both Arizona and Federal work comp claims. Call (480) 347-0941 for more information and scheduling.
The new address for the practice is 4045 E. Union Hills Drive, Suite 122, Phoenix, AZ 85050. The existing phone number is the same and the fax number is (480) 222 – 7074.
The practice offers treatment with a Double Board Certified physician, Dr. Demitri Adarmes, who is highly skilled in helping injured workers avoid surgery and achieve relief. This allows individuals to frequently get back to work, provide for one's family and participate in recreational activities again.
Treatment options may include medication management, interventional procedures or a combination of the two. Each patient's treatment regimen is individually catered to produce the best outcomes. All types of nerve blocks and joint injections are offered, using image guidance for the highest accuracy possible.
In addition to Arizona workers compensation patients being treated, Arizona Injury Medical Associates PLLC also treats Federal workers compensation claims as well. To date, patients from over a dozen states have been successfully treated. Also, the practice offers treatment under a patient's personal injury lien after an auto accident.
Patients are already being scheduled and seen at the new location. Simply call (480) 347-0941 today.