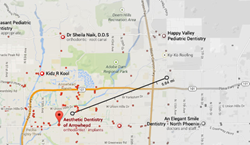 With internet, patients are more easily able to evaluate the dental provider they are considering for their next procedure.
Peoria, Arizona (PRWEB) September 30, 2014
Over time, Dr. Ceyhan's patients have increasingly come from Peoria and North Phoenix. Examining trends in dentistry, it becomes clearer why people are traveling for dentists. It breaks down like this: As the internet has made reviews and ratings for different medical professionals more readily available, patients are more easily able to evaluate the health care provider they are considering for their next dental procedure. This map of north Phoenix Dentists really illustrates the need to find dentists outside your immediate area.
One of the biggest winners in the competition for providing patients with the best information on dentists is Yelp. Yelp recently had a large increase in their organic search rankings, due to an algorithm adjustment at Google, and dental patients have found their review filters to be fairly accurate, though some medical professionals insist Yelp filter their good reviews and allows all bad ones.
Google Maps is another place people rate dentist's offices and their experience with their dentist. Google employs a sophisticated review filter that sorts fake reviews from real reviews, and their insistence on using registered Google accounts to do reviews helps further cut out spam.
Another growing source of dentist reviews is RealSelf. In addition to photos and videos of the dentist and his office, RealSelf also features a question and answer forum as well as reviews of Phoenix area dentists that are well moderated. It allows patients to get questions answered on a variety of health topics, and use professionals whose answers communicate well to them.
Imagine this scenario: A person needing braces in Peoria searches online, and finds the dentists in his area have mixed reviews for braces. In the past, this dental patient would have been limited to the dentist's in the phone book, or even limited to selecting a dentist via word of mouth, which is not the best as it gives you only one person's experience with the provider, and does not show you their dental practice through the eyes of multiple patients, as reviews on sites like Yelp and Google Maps can.
There are many different levels of vetting that can occur with internet savvy patients today. Clients might look through your website, and read what you have written about the procedure they need performed. This includes watching videos of the practitioner, looking at before and after pictures, even studying blogs posts on the topic. This is certainly a big step from asking your neighbor where they got their kids braces done and if they liked them, or just finding the dentist closest to you in the whitepages!
This wealth of information is leading to another change in Dr Ceyhan's Dental practice. Increasingly, patients are more educated on their procedures thanks to all the info which is readily available. This means that patients are not just researching dentists, but researching dentists based on their areas of practice as well.
In Dr. Ceyhan's case, his office, Aesthetic Dentistry of Arrowhead, is well known for cosmetic dentistry, and increasingly patients are searching for dentists who are not just rated for dentistry but for cosmetic dentistry. This increase in client awareness of the many different areas of practice is leading to more patients getting to doctors who are experienced professionals in the procedures these patients need, and this mean more successful outcomes for dentists and patients.
In closing, if you are in North Phoenix or Peoria, you may find that the best dental resource for you may lay outside your city. In this case, the Arrowhead area of Glendale has some of the best dentist's in Arizona with pricing and availability far superior to what can be found in Peoria or North Phoenix, while only being a 5 minute drive away. If you need a dental or medical procedure, be sure to follow the example of your peers and research the best professional for your specific procedure, you may end up getting more smile for your money!
Company Information
Aesthetic Dentistry of Arrowhead
17100 N 67th Ave, Suite 500
Glendale, Arizona 85308
Phone: (623) 979-1515
Fax: (623) 878-1811
Office Hours: Monday-Friday: 8am - 5pm
Website: http://drgregceyhan.com
https://plus.google.com/+Drgregceyhan/about
https://plus.google.com/+GregCeyhan/