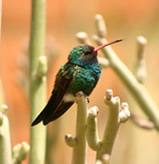 Tucson, AZ (PRWEB) May 01, 2015
Arizona in August is extreme. Summer rains, referred to as monsoons, power extreme biodiversity, and produce off-the-chart, unreal numbers of species. Landscapes are transformed by powerful storms. Lightning shows are dramatic and occur into the night, causing people to gather and watch with fireworks-style fascination. Flash floods happen. Grass grows thigh-high. Grasshoppers, katydids, reptiles, birds, and blooms abound. Adventure calls, and birders, known to wander out of the mainstream, respond – in surprising numbers!
Naturalist Journeys is based in Portal, Arizona, in the heart of monsoon country. Abbott says that enough enthusiasts are catching on and visiting the region that the local Border Patrol agents have to learn to recognize odd behaviors of monsoon-season visitors. Birders gather in groups at night, passing silently under ghost-like sycamore trees, scanning limbs for small owls. Wilder than birders at night are cars on the road – sometimes very remote roads – that swerve, and stop suddenly. From them people jump out of all sides, carrying sticks. These are "herpers," the local name for professional and amateur snake and reptile enthusiasts, or herpetologists. This is their time. Bob Ashley, owner of the Chiricahua Desert Museum, describes a good "herping" night as warm, with no moon. August is the peak month, when nights are warm and humid. In a couple hours of driving one might see 30 snakes of more than a dozen species.
Abbott recently listed six reasons not to miss the draw of lush biodiversity in Arizona's summer season. When people ask her, "Why visit Arizona in summer," she responds:
1. You can experience extreme biodiversity. Fourteen species of hummingbirds have been recorded in this season. Butterflies and birders stray north from Mexico in their time of post-breeding dispersal.
2. You can redefine adventure. In Arizona's Chiricahua Mountains, adventure does not require bungee cords,canopy towers, zip lines, or boats. Weather and the wild world combine to keep adrenaline pumping. In a week-long summer workshop, participants can dig for a honeypot ant, follow a troop of coatimundis, or look for Twinspot Rattlesnakes in Barfoot Park, a National Natural Landmark.
3. You can find a way to unplug. Portal, Arizona just got cell service in 2013, and it only reaches the mouth of Cave Creek Canyon. WIFI locations, like the local library, the porches of local lodgings, or the Chiricahua Desert Museum make for good social encounters. Electric storms make locals shut computers down.
4. You can try local foods and savor the harvest. The monsoon rains bring life to all things wild, including those who like Prickly Pear Margaritas. The aubergine-colored fruits are called "tunas". Locals do the work to harvest them, remove small
spines, and make a rich syrup good on pancakes, or mixed with tequila and lime.
5. You can go a little wild! During Arizona's August monsoons, local biology-types can be found with glazed over stares, not unlike those coming down from a long weekend party. Recognize sleep deprivation, as they've been up at dawn to look for Elegant Trogons, and gone on a nature-crazed quest for species all day before "herping", long into the night…
6. You gain bragging rights! Participants can say they have visited Arizona in July or August; if someone asks why they can smile say "Monsoon Madness."
Naturalist Journeys offers two Monsoon Madness Birding tours this summer, July 23 – 29 and August 1 – 7. The tours, which are limited to 8 participants per trip, begin and end in Tucson, Arizona. For more information visit http://naturalistjourneys.com/jcalendar/jc_AZmonsoon15.htm. The tours are led by senior guide and Arizona resident Bob Behrstock. In addition to birding knowledge, he has written an introductory guide to Southwestern dragonflies. Bob enjoys birding with tour participants of all skill levels and is equally happy pointing his spotting scope at other creatures.