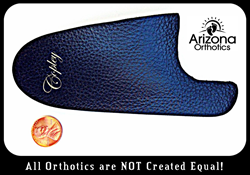 "Our new high heel custom calibrated foot orthotic changes everything!" -Dr. Doperak
Phoenix, Arizona (PRWEB) October 29, 2014
Women have sacrificed foot health and function in the name of fashion for the last time! Arizona Orthotics proudly introduces the first and only medical-grade high heel custom calibrated foot orthotic - The Copley™. Every made-from-scratch orthotic is specifically designed to minimize the foot trauma associated with wearing heels. "It's only a matter of time until pain and deformity appear once you violate the natural alignment of the 52 bones and 66 joints of the feet forcing the foot to function in an unnatural way," says Dr. Doperak of Arizona Orthotics. "Our new high heel custom calibrated foot orthotic changes everything!"
Reducing the stress placed on the ball of the foot while wearing high heels has been, until now, practically impossible. Truly, the only way to reduce this stress was by either reducing the height of the heel or simply not wearing heels altogether…until now. The Copley is like nothing ever seen and unquestionably like nothing ever offered to such a special population.
As soon as the foot slides into a favorite pair of designer heels, the natural distribution of force is immediately altered. Now, instead of the force being equally distributed over the entire surface of each foot, it's all moved directly onto the ball of the foot. As a result, the foot begins to deform as evidenced by pain, discomfort and the associated foot problems such as bunion, hammertoes, big toe arthritis and Morton's neuroma.
The Copley custom calibrated foot orthotic accomplishes two things:
1. Wearing this orthotic reduces the stress on the ball of the foot providing comfort. Although The Copley makes wearing high heels more comfortable and tolerable for longer periods of time, severe ankle plantar flexion remains present limiting the potential for optimal foot function. In the case of The Copley, the force is simply redirected along the proximal medial arch, away from the ball of the foot, eliminating hot spots and most importantly, taking as much pressure as possible off of the ball of the foot; the force is now distributed evenly over a larger area.
2. The Copley reduces the potential for foot disfiguration, such as bunion, as frequently seen amongst even the most celebrated fashionistas. It's no secret high heels are uncomfortable and promote deformity when worn over time. Now, there's a very practical way to keep that spring in a woman's all the while reducing the visual foot deformities frequently seen in this special population.
Customers interested in learning more about The Copley can reach Arizona Orthotics and Dr. Doperak at (480) 307-4060.
About Arizona Orthotics
Arizona Orthotics is your local resource for the best custom foot orthotic money can buy - Sole Supports™. Made from scratch and precisely calibrated to match body weight, foot flexibility and activity level. Welcome to the next generation of custom foot orthotics! Visit us online, http://www.arizonaorthotics.com.
About Dr. David J. Doperak
Dr. David J. Doperak BS DC CSPS NSCA-CPT is an Arizona licensed Doctor of Chiropractic with a post-graduate certification in spine remodeling. Dr. Doperak earned his second post-graduate certification from Sole Supports after developing a passion for foot biomechanics and mechanical engineering. Dr. Doperak is also the first and only CSPS in AZ; the Certified Special Populations Specialist credential was established by the National Strength and Conditioning Association in 2012 for the purpose of locating specialists apt to serve the unique needs of health-challenged groups in the U.S.