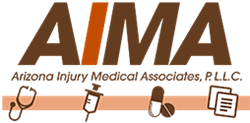 Arizona Injury Medical Associates offers injured workers the top nonoperative pain management in the Southwest!
Phoenix, Arizona (PRWEB) March 30, 2015
The top workers compensation pain management clinic in the Southwest, Arizona Injury Medical Associates PLLC (known as AIMA), is now offering five effective nonoperative treatment methods for biceps tendonitis. The treatment options are administered by a Board Certified doctor and are exceptional at pain relief. Call (480) 347-0941 for more information and scheduling.
For years, AIMA has been successfully treating injured workers in Arizona, and also treats Federal Workers Compensation patients from all over the US. Individuals from over a dozen states have received treatment at the practice.
Dr. Demitri Adarmes is a Double Board Certified physician who administers the treatments at AIMA. They include both medication management and interventional procedures. For biceps tendonitis, therapy options include anti-inflammatories by mouth or by prescription cream.
Cortisone injections are offered at the practice, which may relieve pain for months at a time. Trigger point injections may also be administered to relieve associated myofascial pain. Acupuncture is also potentially part of the treatment, as Dr. Adarmes is certified in the technique.
As surgery is an absolute last resort for biceps tendonitis, extensive nonoperative treatment should be attempted first. Surgery may mean an extensive time out of work as well.
Along with biceps tendonitis, AIMA offers treatment for all types of painful conditions including sciatica, back and neck pain, whiplash, arthritic flareups, rotator cuff tendonitis and much more.
For the best workers compensation pain management treatment in the Southwest, call (480) 347-0941.