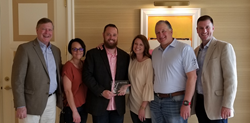 "Our focus is to deliver the most comprehensive solutions to manage specialty medications and care for the well-being of our clients' members, and ARJ achieves this goal every day."
KANSAS CITY, Mo. (PRWEB) July 11, 2019
MedTrakRx, one of the nation's fastest-growing pharmacy benefit managers, selected ARJ Infusion Services, a nationally recognized specialty pharmacy, to deliver home infusion therapies to clients with rare and chronic conditions. This is the second consecutive contract resulting in an exclusive two-year partnership for MedTrakRx and ARJ.
"ARJ has clearly demonstrated their ability to meet the requirements of our unique care model," said Tom Golding, Vice President of Trade Relations at MedTrakRx. "Our focus is to deliver the most comprehensive solutions to manage specialty medications and care for the well-being of our clients' members, and ARJ achieves this goal every day."
ARJ continues to oversee specialty pharmacy dispensing and nursing services for MedTrakRx members with bleeding and neurological disorders, immune deficiencies, and gastrointestinal and rheumatic conditions. Rare disease management requires proactive patient monitoring and hands-on care coordination with patients' treating physicians to reduce unforeseen and costly episodes of care. The annual cost of treatment for these valuable therapies ranges from $35,000 to more than $400,000.
This unique partnership creates additional opportunities to add value to MedTrakRx clients:

"We're excited to continue our partnership with MedTrakRx and provide quality, in-home treatment and site-of-care options to patients," said Tom Shaughnessy, Vice President of Market Access and Government Affairs at ARJ Infusion Services. "This relationship allows ARJ to deliver better health outcomes and lower costs to patients."
Learn more about the MedTrakRx and ARJ Infusion Services partnership.
ARJ Infusion Services is a national leader in specialty home infusion pharmacy and nursing services for children and adults with rare and chronic conditions. ARJ's expertise includes custom infusion therapy solutions to treat bleeding and neurological disorders, immune deficiencies, and gastrointestinal and rheumatic conditions.
MedTrakRx offers pharmacy benefits to self-insured employers. With the flexibility to customize clinical programs to meet the unique needs of clients, MedTrakRx delivers lower prescription benefit costs and excellent customer service. In 2014, MedTrakRx was purchased by Envision Rx, a wholly owned subsidiary of Rite Aid Corporation. MedTrakRx is headquartered in Overland Park, Kan.